I'm honored to be closing out Melanie Testa and Carol Soderlund's author blog hop for their brand new book, Playful Fabric Printing that is now available!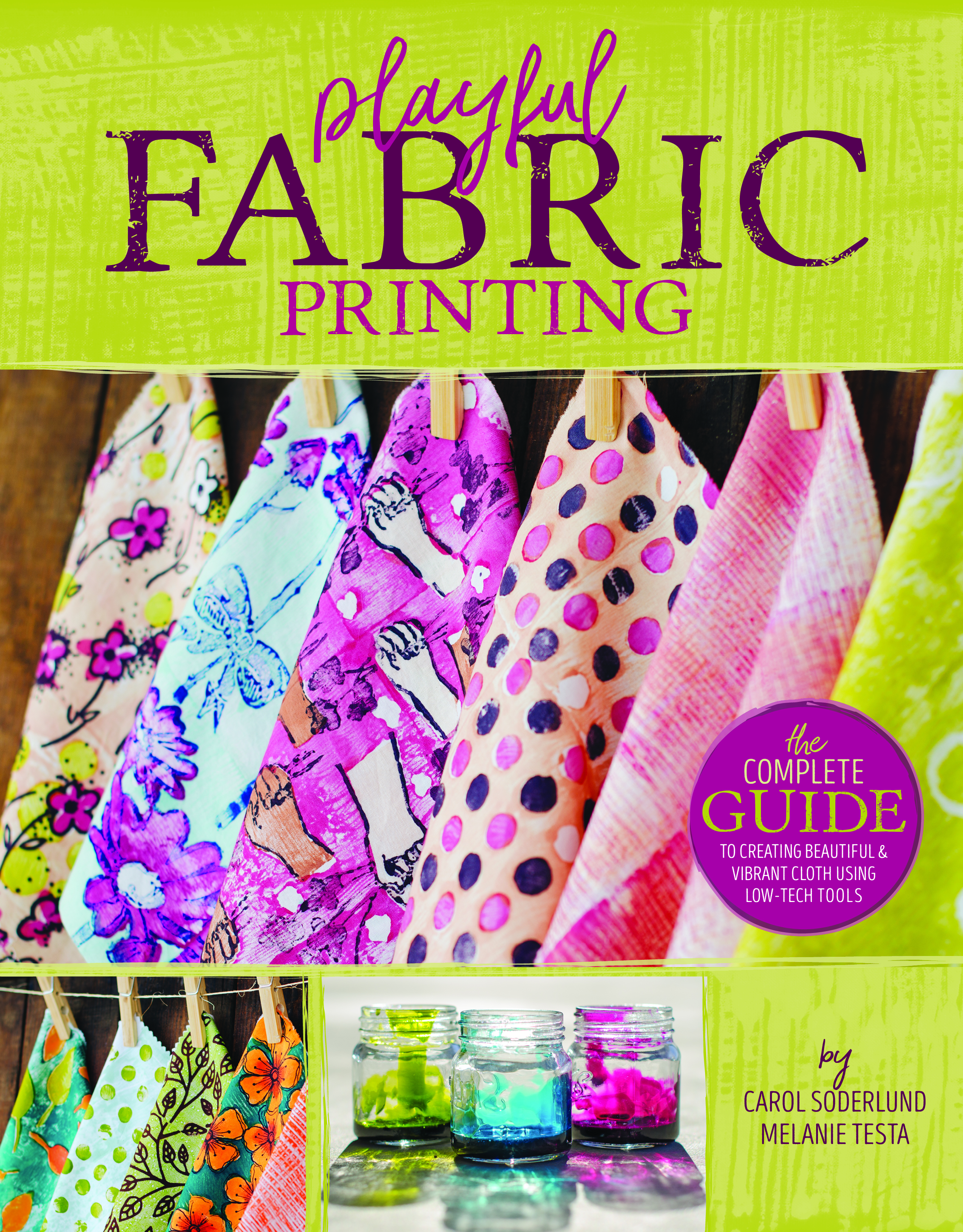 As the publisher, it was a pleasure to work with these two talented artists so this book could at long last see the light of day.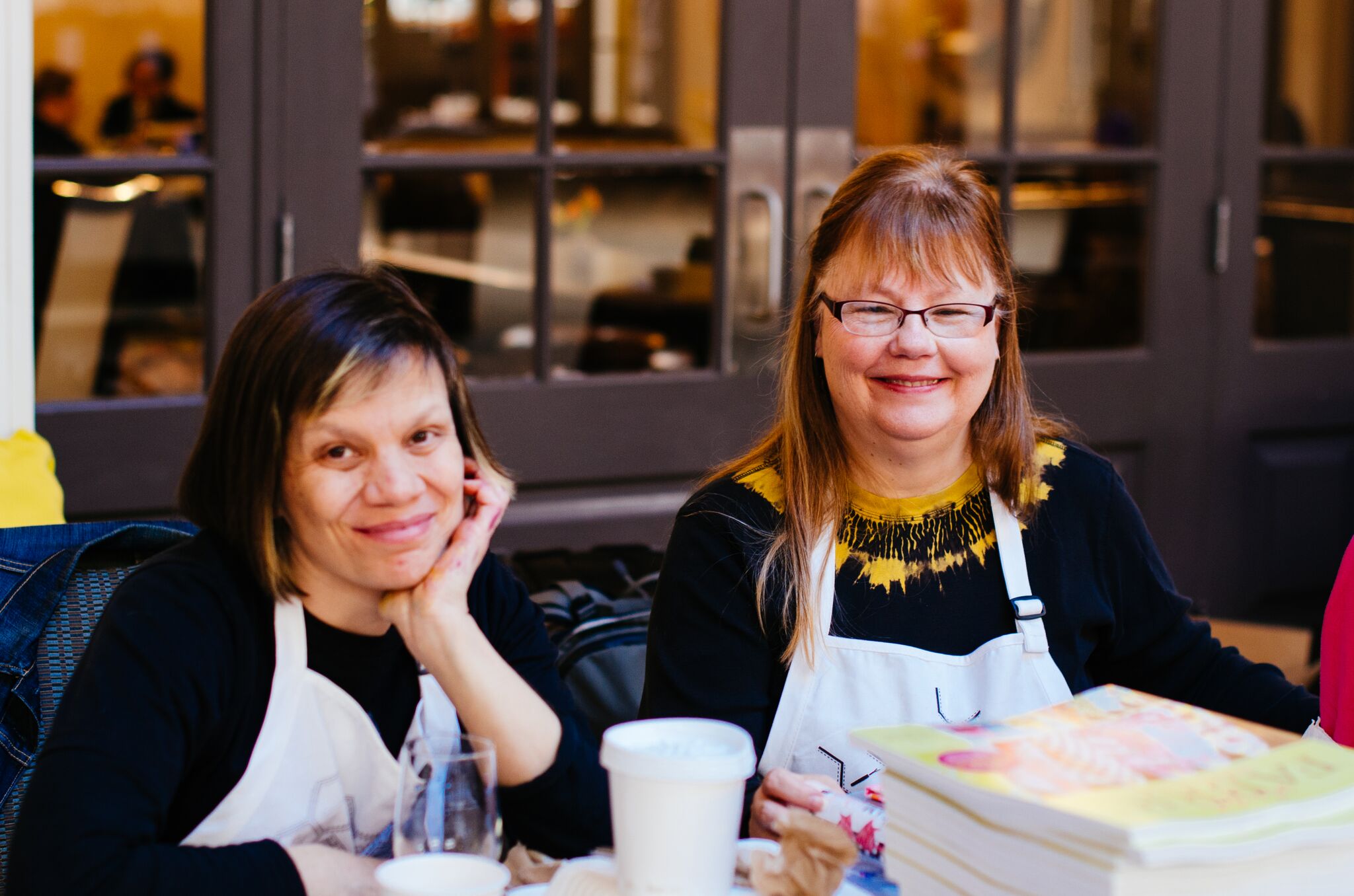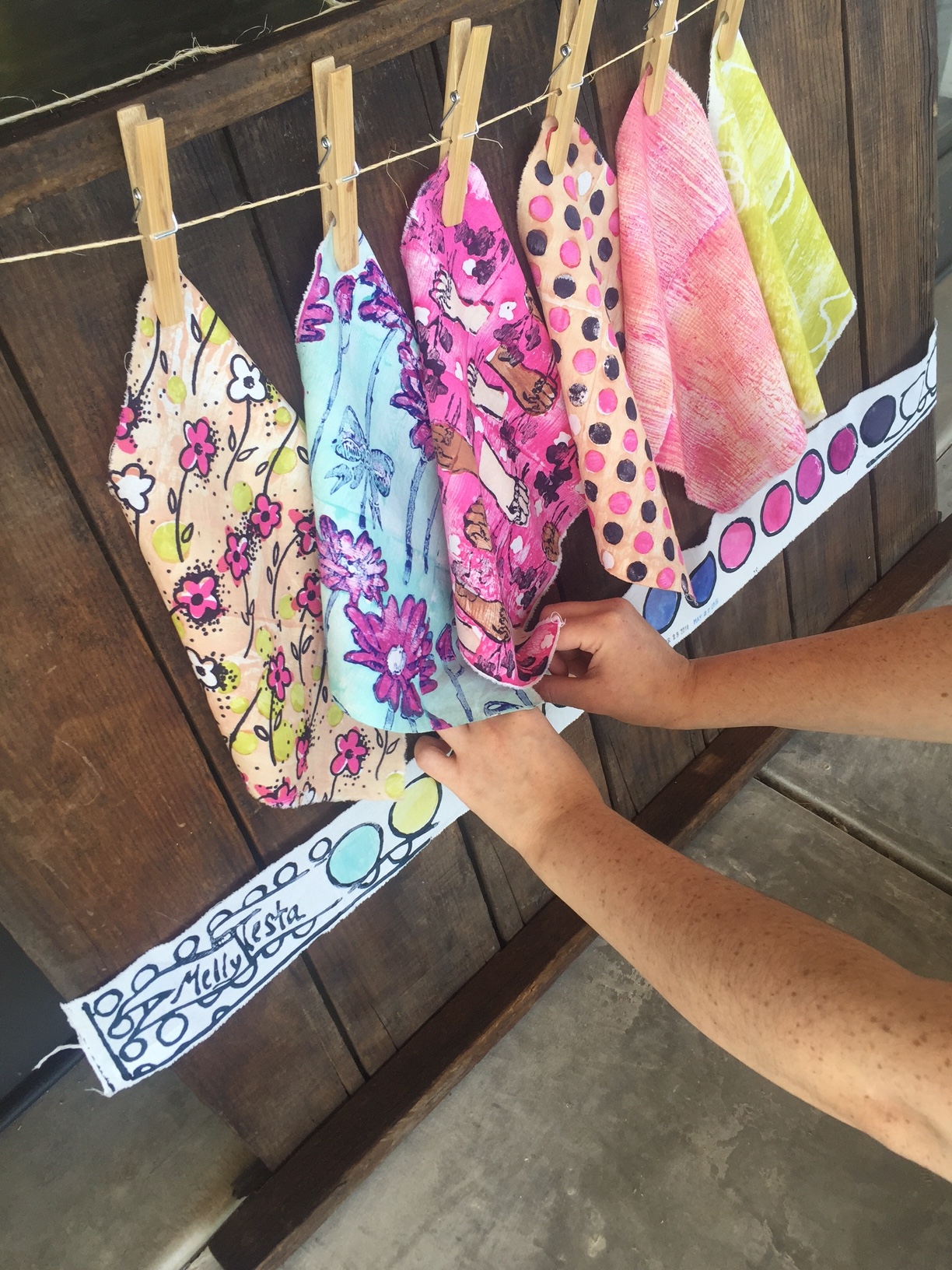 The book is chock-full of techniques, color recipes, and step-by-step instructions for printing your own fabrics using thickened dyes and low-tech, easily accessible tools.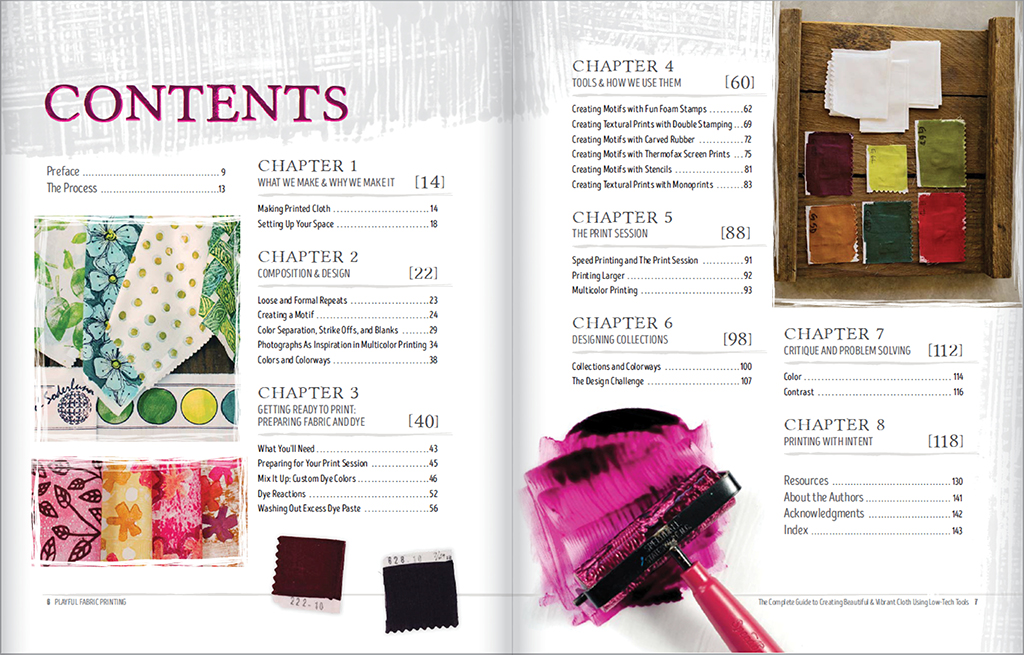 I get asked all the time, why thickened dyes vs. fabric paint? I actually like to print with both. Paint sits on top of the fabric, and when dry, it can have a bit of a stiff hand to it (depending upon the brand and type)–sometimes this is wanted as it adds wonderful texture. I use fabric paints most especially in my art quilts and fabric collages. However, when you use thickened dyes (dyes with print paste added), the dyes act like paint–you can stamp, screenprint, monoprint, etc., but when you wash the dyes out, you are left with a fabric that has a very soft hand, and plays really well with commercial fabrics for quilts and projects.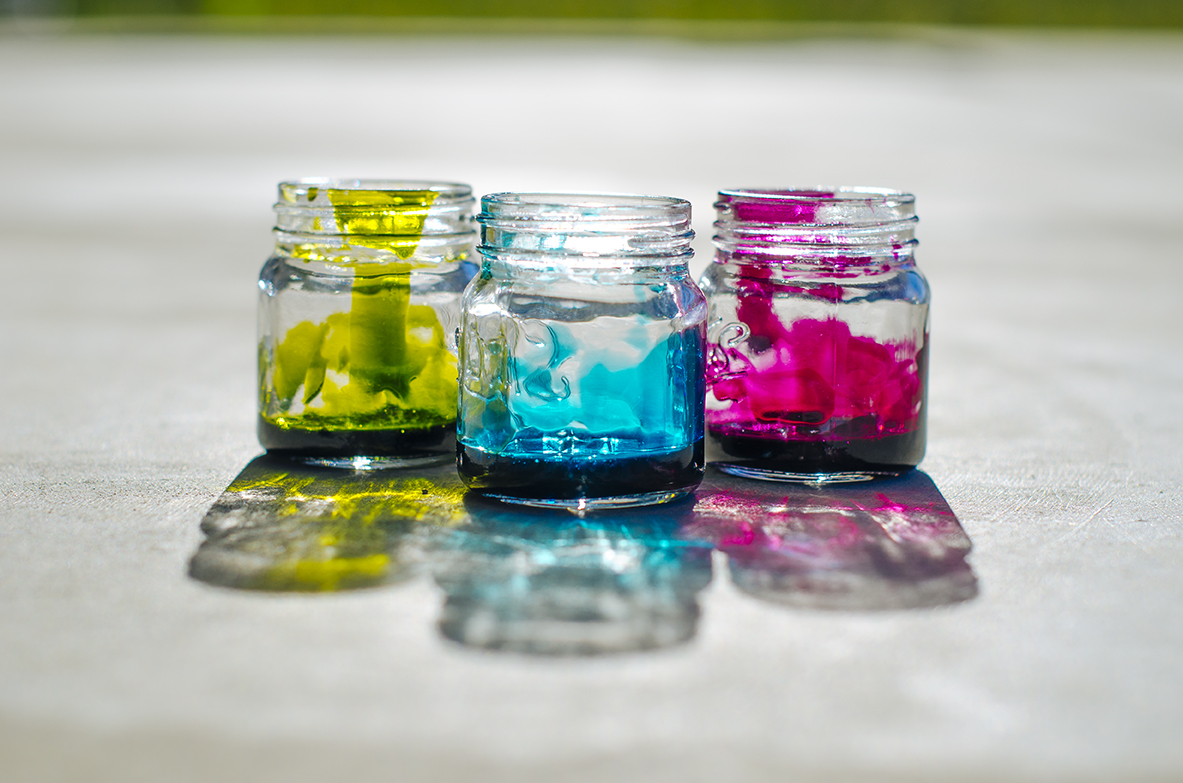 My Latest Print Session and a Hack for Batching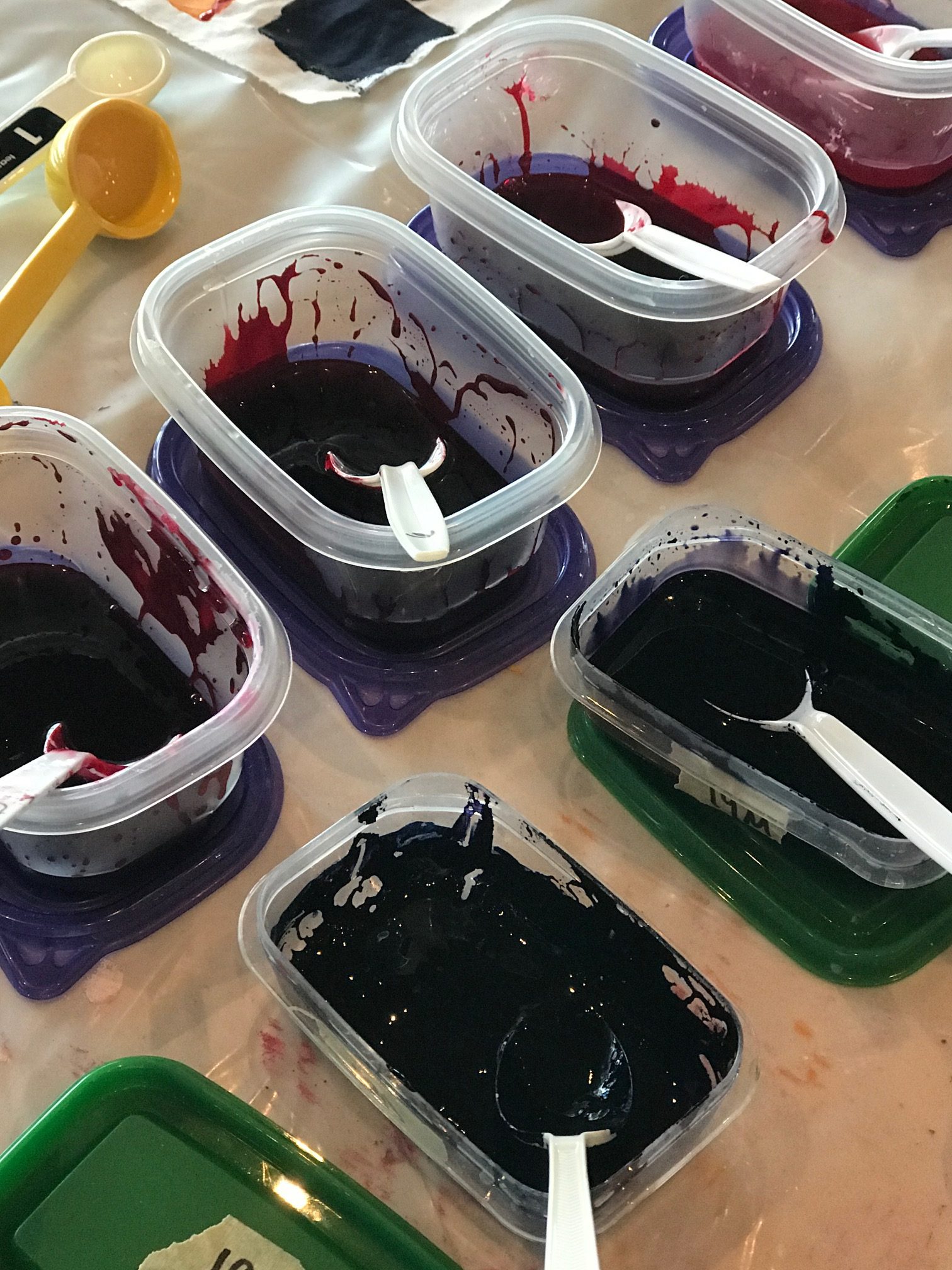 The other day I plucked some lemons from my Meyer lemon tree for stamping. I like to layer color on my prints; I often first monoprint a background color with thickened dyes, let that layer dry, and then apply a Thermofax screen, stamp, or stencil, letting each layer of thickened dye dry before applying another layer of print work.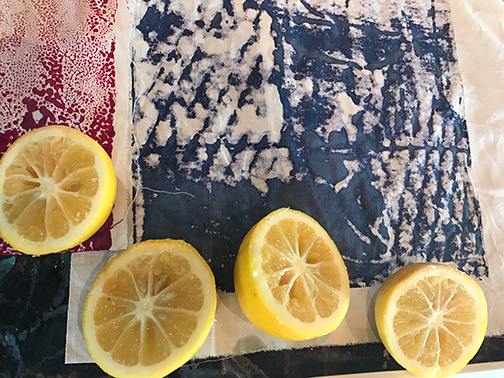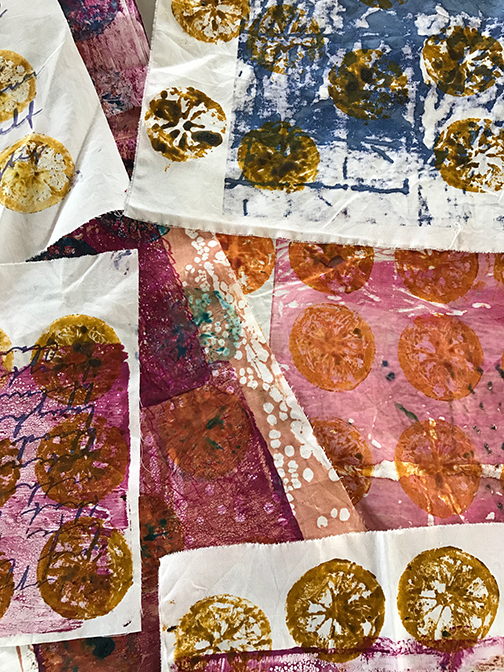 Once I think a piece of fabric is finished with layers of printing, and the fabric is completely dry, it's time to "batch" the fabrics so that the dyes permanently soak into the fibers. (If you skip this step, most of the dyes will completely wash out when rinsing.) Batching takes time and a moist environment, and traditionally you batch fabrics overnight by rolling the printed fabrics in plastic and placing in a dark bathroom or closet.
This means waiting to use the fabrics…and I do not like to wait.
However, Carol and Melly  taught me the best hack ever: creating your own steam system where the fabric dyes set in just 20 minutes.
Meet what I like to call Cousin Itt: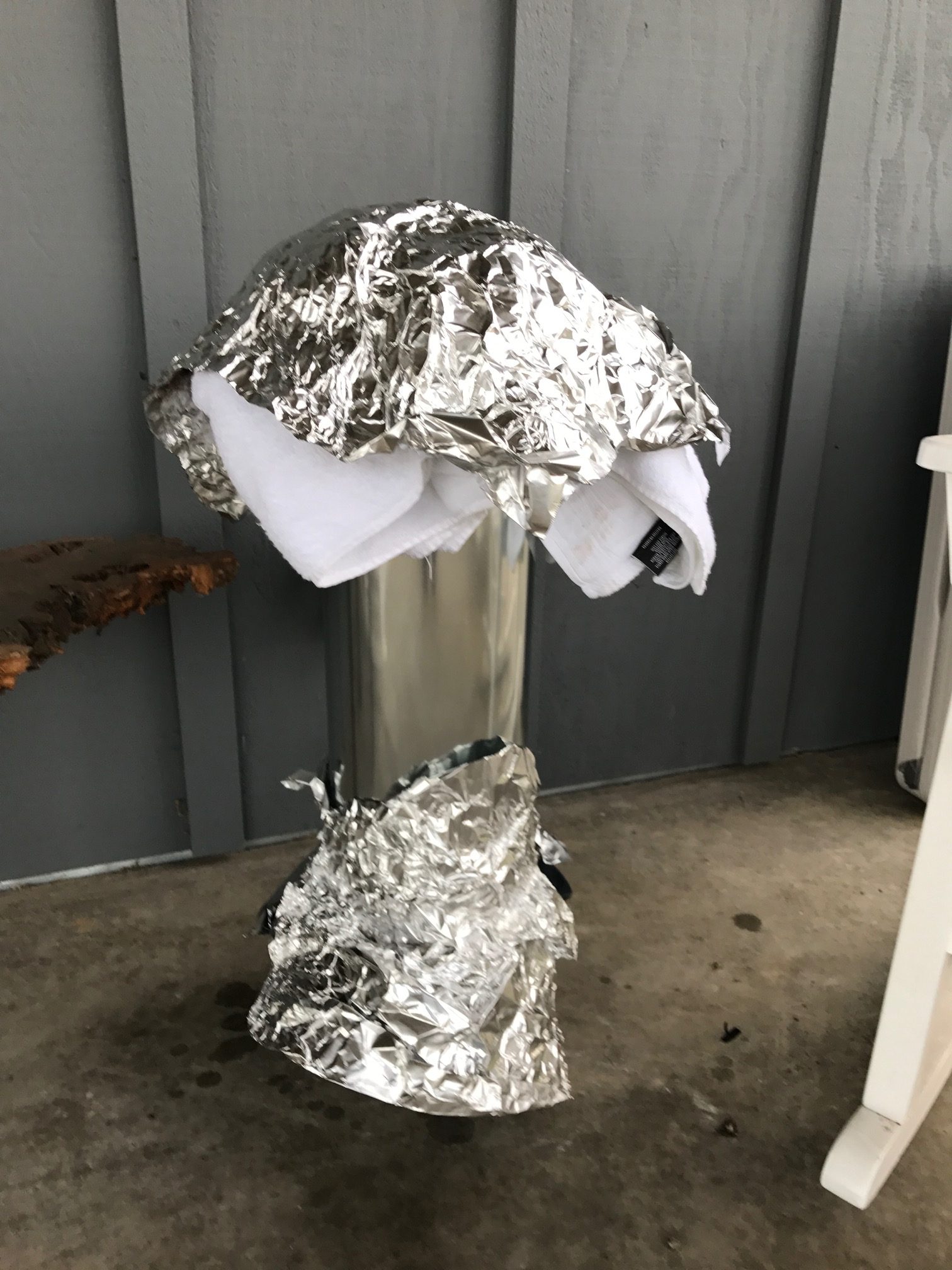 See the resemblance?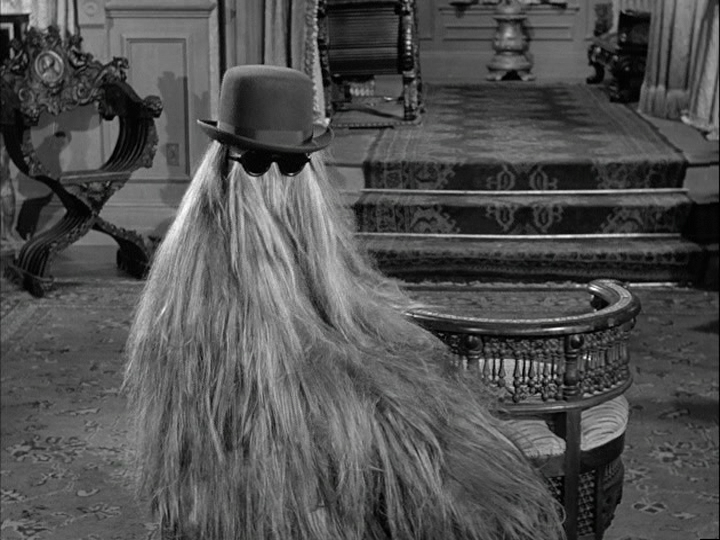 The directions for assembling this steam system are in the book, and for me, one of my biggest take-aways. This easy-to-assemble steam system means I can walk into my studio in the morning, and just a few hours later, come away with stacks and stacks of printed fabrics that I can then quilt with immediately. All you need is a a rice cooker with a steam basket, metal duct, wire mesh,  cheesecloth, newsprint, foil, and a towel, among a few other tools for assembly. Below I am showing some local quilting friends how this steam system works.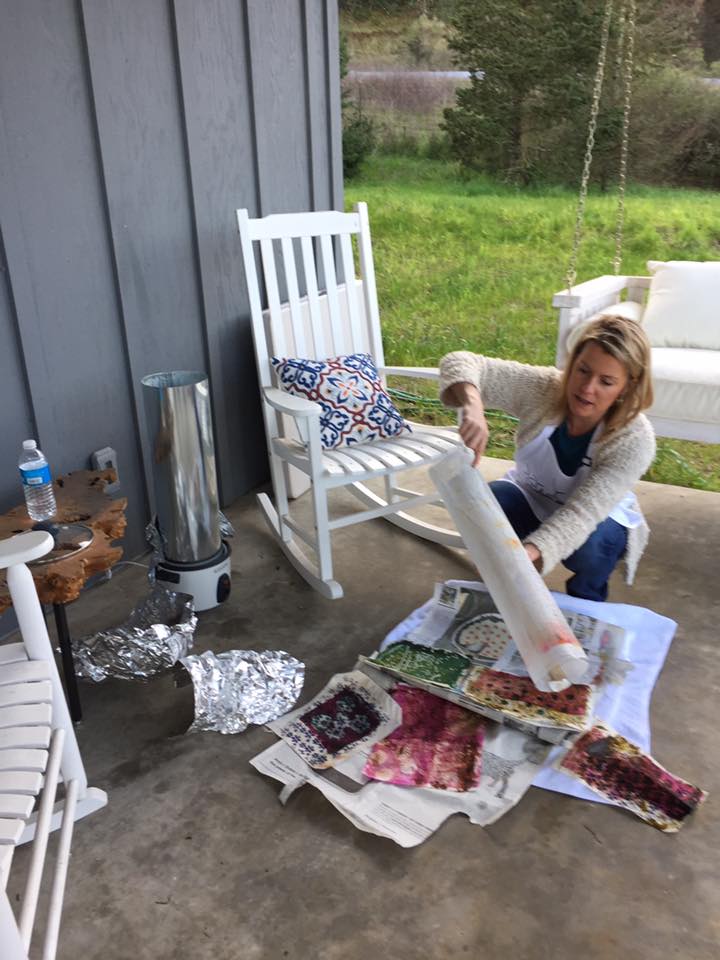 To the left in this photo, you can see that the metal duct is sitting in the rice cooker with a steam basket (with some water on the bottom). I am holding the inner tube (rolled wire mesh with cheesecloth stitched around it) where you wrap your fabrics with layers of newsprint. Once you've rolled your layered fabrics and newsprint around the inner tube and secured with masking tape,  set this inner tube inside the metal duct. Place a towel on top, then wrap both the top and the bottom with foil to keep the steam from leaking out. Set your timer for 20 minutes, and when done steaming, the fabrics are ready to be rinsed and stitched.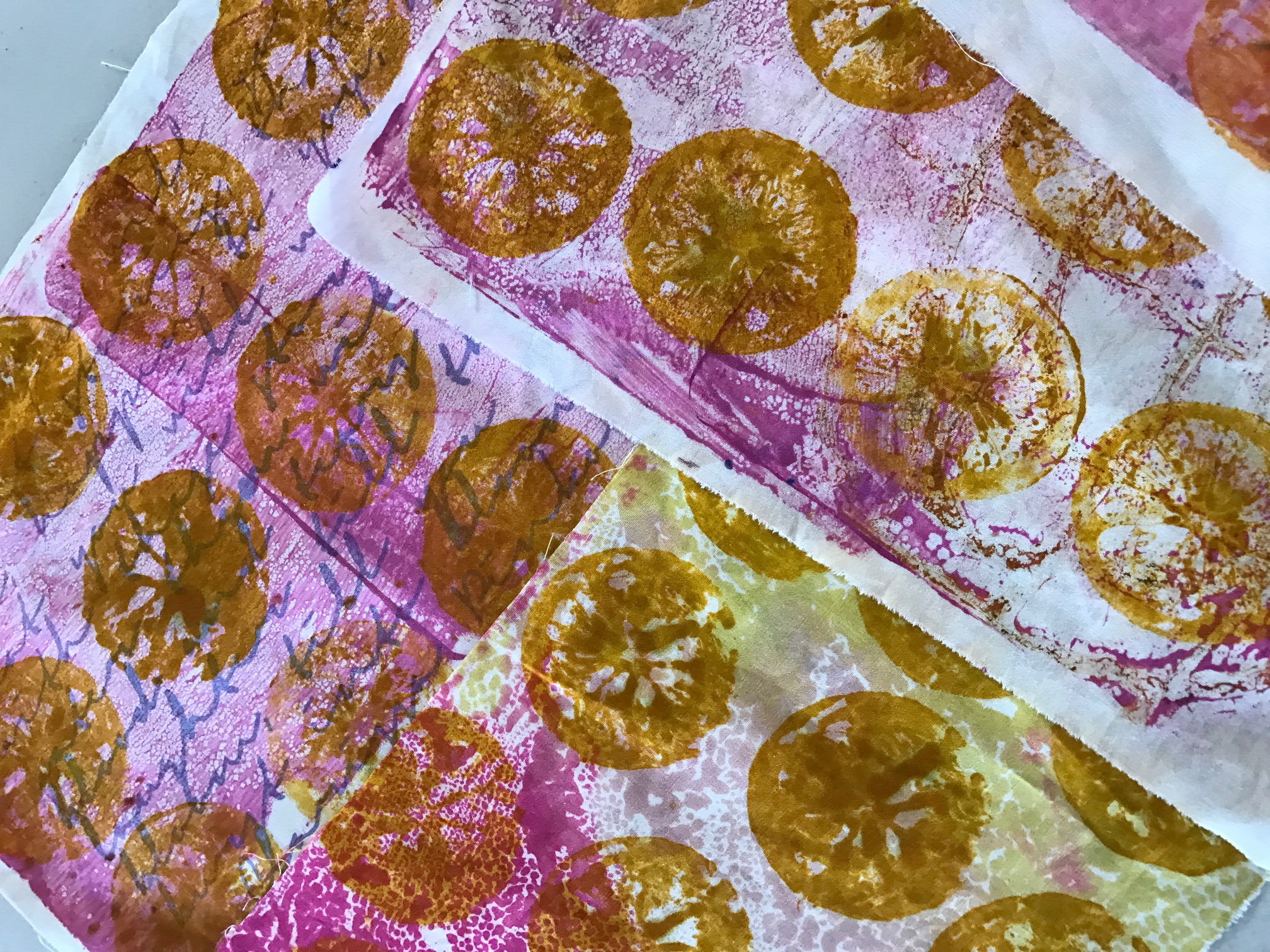 I have so many plans for quilt making with my prints, and I am really looking forward to experimenting with the numerous techniques and dye recipes in this book.
So to close out this blog, I want to ask the following question. Leave your answer in the comments area, and I will randomly select a winner to get a free copy of the book.
Question: If you could create your own fabrics, what motifs would you feature? And if you have printed your own fabrics and they are viewable online, please share the link so we can see!
To see the other blogs in this blog hop (many with techniques and demos) click the following:
Melly Testa
http://melanietesta.com/blog/
Carol Soderlund
http://www.carolsoderlund.com/blog/
Lisa Chin
http://somethingcleveraboutnothing.blogspot.com
Julie Fei-Fan Balzer
http://www.balzerdesigns.typepad.com/
Judy Coates Perez
http://www.judycoatesperez.com
Carrie Bloomston
http://www.carriebloomston.com/blog/
Chris Dodsley as made by ChrissieD
Lynn Krawcyzk
http://smudgeddesignstudio.com
Leslie Tucker Jenison
http://leslietuckerjenison.blogspot.com