A few days ago I drove Maybel (pronounced May-Bell) the Airstream down to Livermore to tape a segment for The Quilt Show at Alex Anderson's house. Driving the 60-mile trek on busy highway 680 from Napa was more nerve-wracking than taping outdoors during COVID. (There were so many safety precautions and social distancing rules put in place for the taping, I felt safe making the trek.)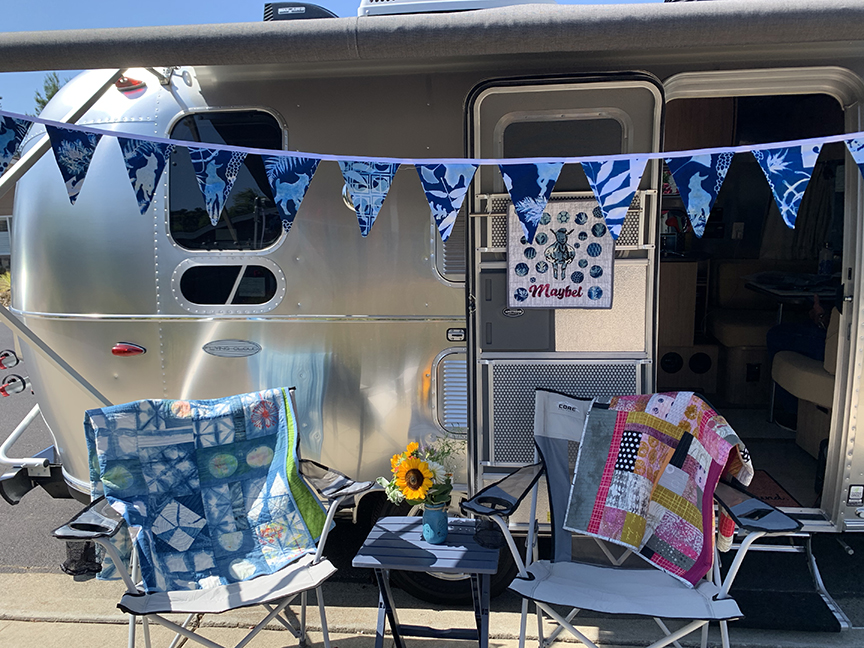 Here's Maybel all glammed up after I parked her in front of Alex's house. I made two "Scrappy Lappy" improv-pieced quilts, both combining my own hand-dyed fabrics with commercial prints. They are both a good size to put over yourself while sitting fireside when glamping.
I also made a Maybel quilt to hang on the door, as well as a fabric bunting, using cyanotype printing and baby goat stencils to represent Maybel's "Baybels"–the four kids she gave birth to, and hence why she was as wide as an airstream while she was pregnant. (If unfamiliar with Maybel and her rescue story, visit the Goats of Anarchy rescue organization account on Instagram.)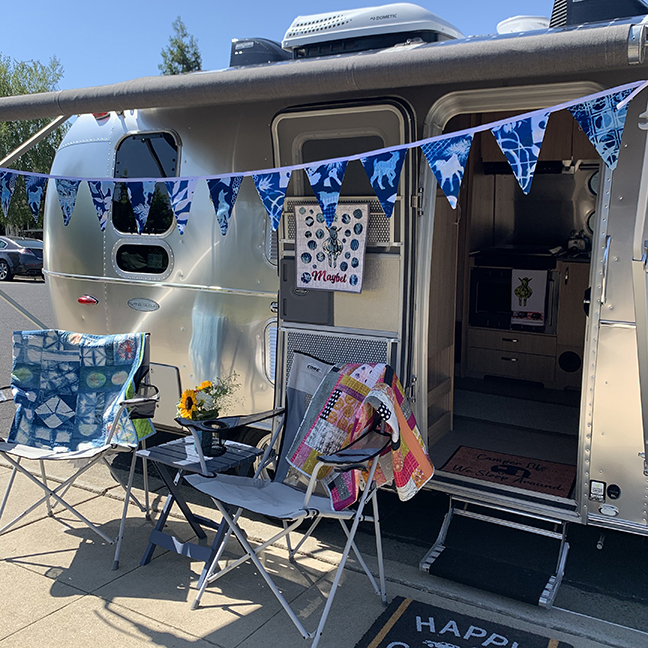 Above is another angle (you can see the little Maybel dish towel I made hanging off the stove handle inside).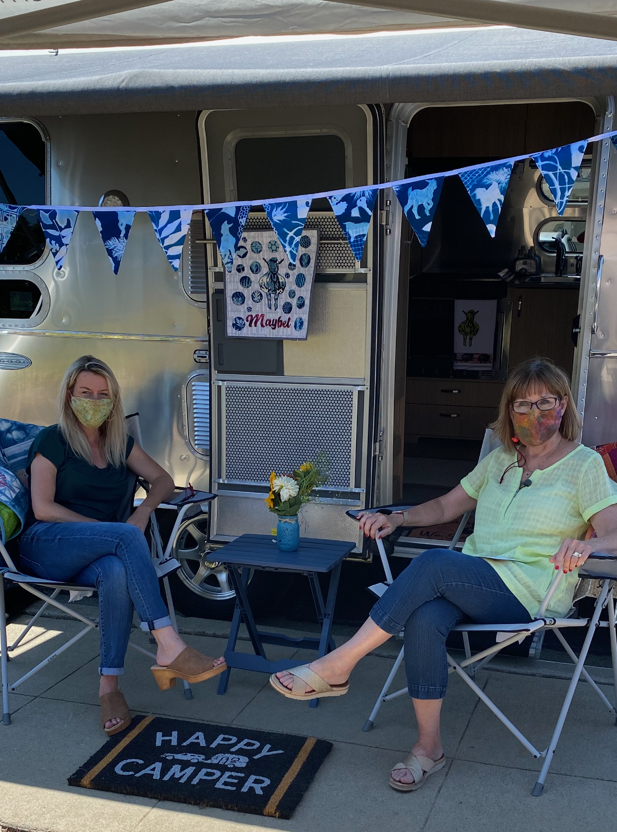 While social distancing and masked up, Alex and I talked about a lot of things for the segment: my history of quilting and pivoting in this quilting industry; the fires and my 8-day-long evacuation from my home in Napa because of the fires (hence my buying a used Airstream in case I need to evacuate again); and I demonstrated cyanotype printing and playing with Applipops. (More on Applipops in a future entry.)
Here's a peek inside the airstream to see my featured Maybel quilt for my bed. I also fused a couple of thermofax-printed Maybels onto pom-pom pillows for more color. It was really important to me that I make this little haven as cheerful as possible.
I have known Alex for almost as long as I've been in this industry–21 years, and 15 years ago I taped a couple of segments for "Simply Quilts." It was wonderful and refreshing to be in a low-key setting and reunite with an old  and highly respected friend in this industry. 
The night before the taping when I was styling the airstream, Tyrion clearly let me know he wanted to come be a guest as well (but he stayed behind). This picture below is now the screensaver on my iPhone: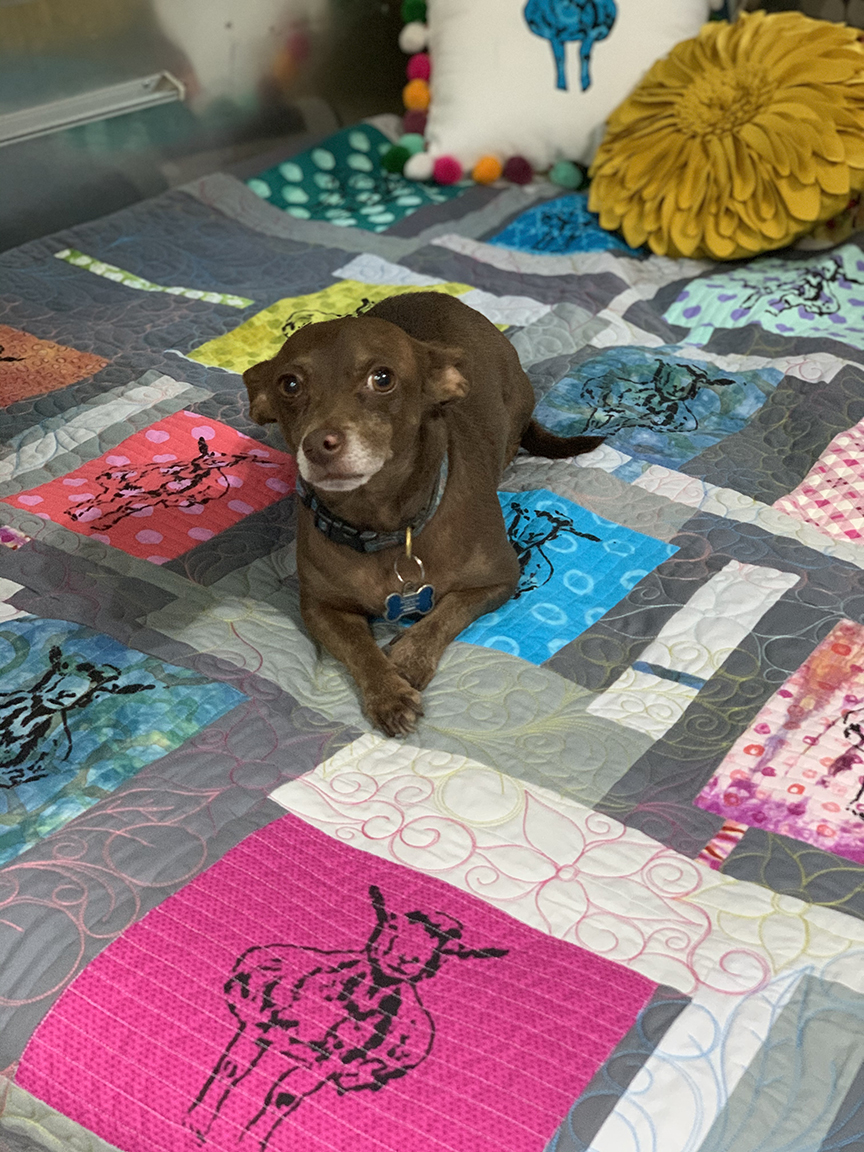 Thank you, Alex for the honor of asking me to tape and being a part of the Quilt Show! I can't express how wonderful it was seeing other people after being so isolated for four-plus months, and this segment gave me something to work on and surround myself with a lot of color and joy. 
The episode will air in early fall on The Quilt Show.
Now that this taping is over, I'm fully focused on Craft Napa: Uncorked at Home! Be sure to look for an announcement with the schedule of classes and dates for registration coming shortly. And in the meantime, I am still hosting Instagram Lives every weekday at 1:00 PM Pacific and interviewing guest quilters and artists.  I think I have done more than 100 interviews to date since COVID started. These Instagram interviews have been really uplifting for me during quarantining and keeping our collective spirits up.
Stay safe and creative everyone,
Pokey