I've had a lot of wonderful interactions online these past few months during this pandemic; mostly in the form of interviews through Instagram Lives (I've done 106 to date). We've had honest–sometimes scary, sometimes sad– "coronacoaster" chats about what we are all going through during Covid-19, and what it is doing to our businesses, our art, and our livelihoods. Through these chats, I've also discovered some incredible businesses and artists pivoting to offer their goods during a pandemic. Here are a few of my favorites that I highly recommend:
Cultured Expressions, a retail store in New Jersey founded by Lisa Shepherd Stewart specializing in African fabrics, embellishments, mask-making kits, and goods. Lisa's opened up her store for in-person shopping again, but the coolest thing she is doing for those of us who can't visit, is offering online appointments that you can schedule in advance and shop virtually with her! Check out this pieced patchwork top I recently got (it's being quilted as we speak):
Looking for some summer reading? Thanks to Hollis Chatelain for the connection, I interviewed author Barbara Brown Gathers who penned The Secrets of Hattie Brown. Barbara spent decades doing historical research into her family history, which hailed from Virginia and North Carolina, and authored a story based on her grandmother whose own family was emancipated from slavery. It is a fascinated perspective on a piece of history sparsely discussed or documented: what it was like to be black and live in the South post-emancipation.
Want some FUN glasses/ eye couture for your next socially distanced pool party? One of Hollis Chatelain's daughters, Karen moved to Los Angeles to make it in Hollywood dressing up the stars (and she's succeeded…she got Beyonce to don her eyewear)! I bought a set of sunglasses  for myself and love them. I just need somewhere to go! Visit https://burkinabae.com. (She has readers too for those of us with aging eyes and who want to look fashionable while sewing.)
Judy Coates Perez has some things up her sleeve (soon to be announced) but has also recently offered up some fun Dia De Los Muertos Embroidery kits that are super colorful and cute that you can personalize with your own embroidery:
If you hadn't heard yet, Sheila Frampton Cooper is BACK in California from France  (yay for us), and she is offering online workshops. Here's a snapshot of our online IG conversation:I am a huge fan of her both as a human and as an artist, and you can learn more of her recent online offerings here: https://www.fiberartworkshops.art
Need some new fabric in your life? Some wonderful fabric lines are about to DROP! I interviewed Marcia Derse, Natalie Barnes, and Carrie Bloomston for Windham Fabrics. Check out the Windham Fabrics website to see their collections that will be available soon.
Leslie Tucker Jenison also previewed her new line with Robert Kaufman: Warehouse District, available in early fall. It is a gorgeous line, and I was lucky enough to get my grasp fingers on some (and in a quilt that I will be sharing soon).
Free-motion quilt artist Teri Lucas authored her first book with C&T: Color, Thread, & Free-Motion Quilting: Learn to Stitch with Reckless Abandon. I received an advanced reader copy of the book but didn't know that my quote for the book was going to be the sole quote on the back cover, though–nice surprise. 🙂 This book is truly worth adding to your book stash as it has a wealth of information on different thread weights and types–knowledge I was lacking.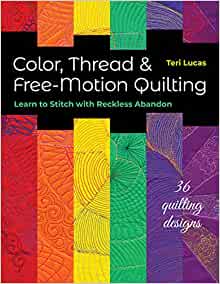 I will be doing another one of these  posts highlighting finds I stumble across during this pandemic. If you are an artist or quilt/craft business and want to share what you are doing to pivot during this pandemic, write a comment below, or email me at pokey@craftingalifellc.com.