Oh what a year… I have a lot of numbers and thoughts about 2018, but I am winnowing down to three numbers, three big accomplishments and events:
6
The number of quilts and pieces of art I made in 2018–all made and given away to children, baby quilts, to charity, and loved ones. I planned on twice this number but hey…I got to six! Here's one, and the recipient, my best childhood friend's youngest child's "baby quilt." (It was a little overdue, but we all had a good laugh about it.)
$4000
The amount raised for the first CRAFT NAPA Stay Pawsitive fundraiser for Friends for Life animal shelter in Houston for Hurricane Harvey victims. We are on fundraiser #2 for the Paradise Fires victims…so if you want to make something, click here! We have more than a week to create and accepting donations!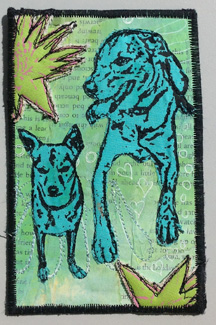 And my most important number.
My Number 1:
Dorothy Bolton.
I lost my mother-in-law in August. She has been a mother in every way to me since I was 19, and I was fortunate to be able to have a bed-side conversation and say goodbye before she passed away this past August. We had a pretty heartfelt but funny conversation that day. And I will always be grateful for this final time together. I can't say I have been totally right since, and I may never be. But I am so grateful for all she taught me and for having her in my life.
After she passed away, a few health issues happened in my own biological and extended family, and it has been a challenging second half of the year.
And so here is my wish for 2019: for all those who have had a hard year, for those who have lost loved ones, and those trepid to go into the new year, let's step into it together, and support each other. And let's be grateful for those who have loved us and taught us to be gentle and loving human beings.
In memory of Dot.
Happy New Year,
Pokey