I've been a little MIA since the last time I blogged here, which I know, I know…was in February. I have a couple of good reasons though.
First, I've been getting everything ready for the next Craft Napa to take place January 15-19, 2020. I can't believe it's our 5th edition already!  I contracted 17 teachers for a total of 41 workshops over the course of five days.
I am a one-person company, and it just takes a lot of work and double-checking to make sure I don't make mistakes in the scheduling, the contracts, editing all of the info. for the site, etc. It takes me a year to pull this event off.
Springtime is probably the busiest time planning for Craft Napa, at least until I open registration in early June. My spring looks something like this:
Gather and study the workshop proposals. I don't make these decisions lightly or alone—I vet them by a group of artists, quilters, and crafters and they gave me their honest opinions on each one.
Negotiate (or in my case re-negotiate several times) the host hotel, catering, and meeting space. This past time it took several rounds of contract revisions, and frankly, a lot of time.
Meet with BERNINA and Meissner's Sewing and make sure they were happy with the previous year's event with the number of machines they brought (and sold), and make sure that they want to sponsor again!
Contact the accepted artists and double check their schedules to confirm availability and times. Also make sure I don't overbook the rooms requiring a machine per student (easy to do).
Contract the artists for said days and times (and don't make a mistake and double book them).
Schedule all the workshops for the meeting rooms and in my art barn for each day and evening.
Schedule special events and book talent (i.e. wine tastings, special luncheon speakers, wine train, or artists' market as examples).
Start planning and price out any special event or session that requires catering, and figure out a reasonable cost per person.
Edit all of the above, gather all of the images, and load everything onto both the main Craft Napa website and also the sister site for registration (CVENT) for launch in early June. In my case, I open registration six months prior so people can plan for the new year. 
Plan an e-newsletter and social media schedule.
This spring while choosing, contracting, and scheduling the above, I also completely overhauled my company's website: craftnapa.com.
Why?
I met with several website developers in early spring, and I was told the same thing by each one of them: a business website's functionality and branding should undergo a makeover minimally every three years.  This makes total sense to me, given how fast technology changes and the functions of a site become outdated.
Take for one, the slider (also called a carousel): not only does a slider kill your SEO on a front/homepage, but it is also considered, shall we say, pas de la mode. My front page consisted of a slider, so I 86'd that, and replaced with what I am trying to publicize at the time: right now that's Craft Napa.
Other functions I wanted to be able to feature included making every image on the site Pinterest-able, and every materials list for each workshop printable with a printer prompt. 
The overhaul took weeks, but I am pretty pleased with how it looks. Some snaps of the site:
Scroll down a bit on the home page and there is the option to view featured workshops: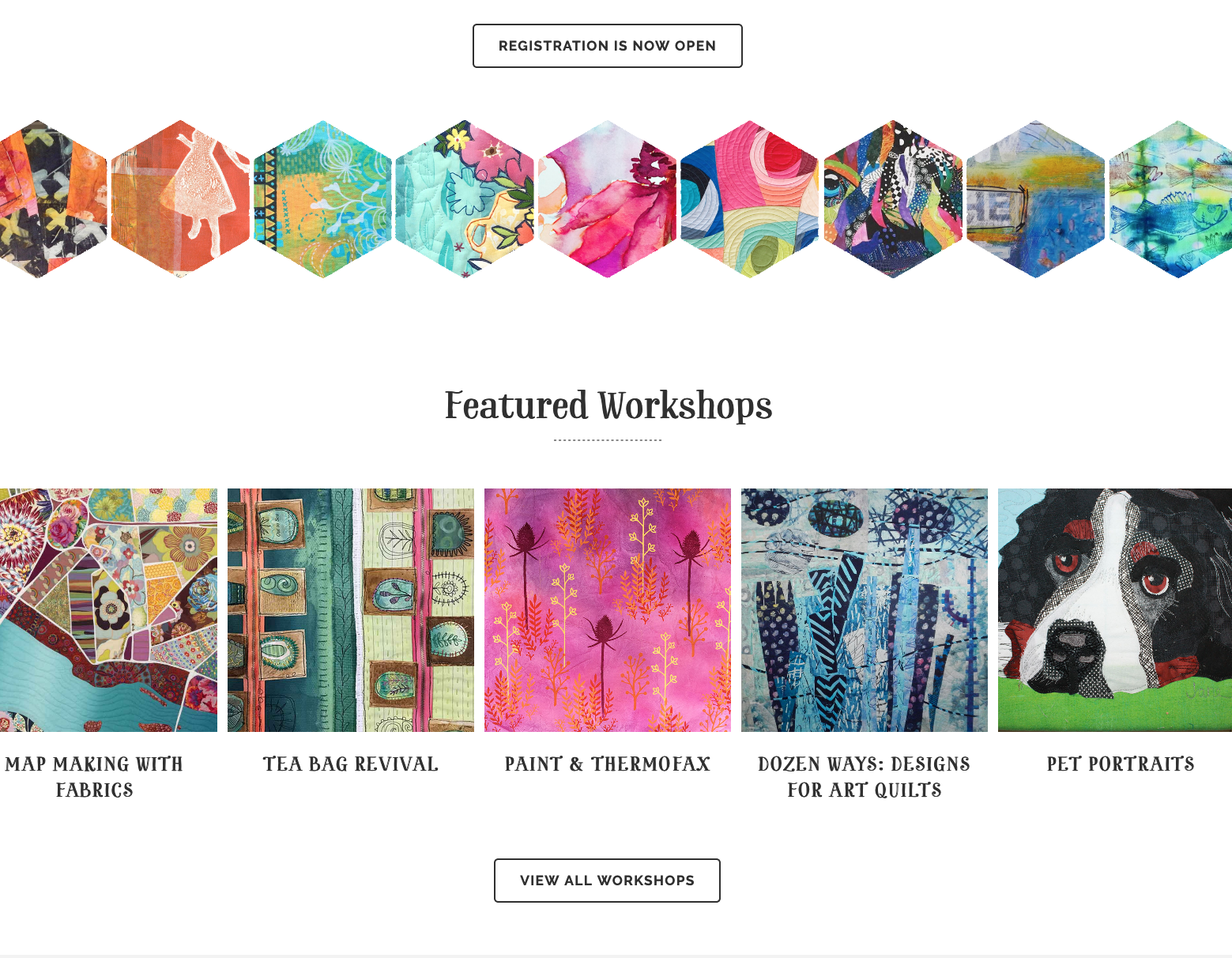 Above: I wanted the ability to feature workshops and rotate them out to give prominent airtime for each. This also gives me the option to feature workshops outside of Craft Napa down the line.
This page (below) is a snippet of the overall Craft Napa Workshops page where everyone can preview images of all of the 41 workshops offered at one time for this event: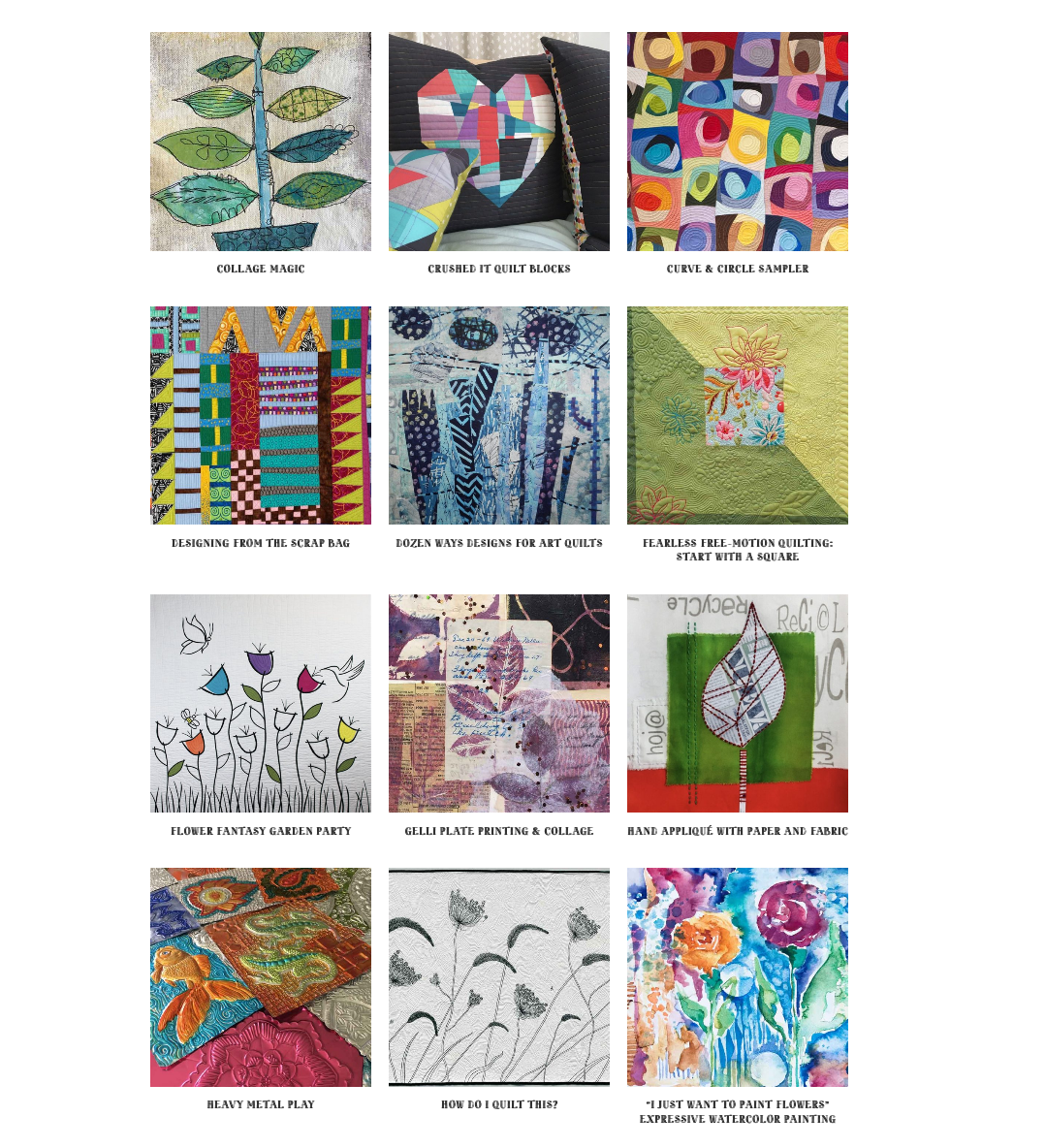 I also switched ecommerce services from Shopify to Stripe which has great functionality and is less expensive (if you have an e-commerce site and want some info about Stripe, feel free to email me). And I continue to use CVENT for all of my registration needs, which I have been using since 2015 with huge success and ease of execution.
With registration open now, I can breathe a little easier and plan some other ventures, which I will announce in the next couple of months. And now that the summer solstice is just about here and we are entering the second half of the year, I still have a full plate of things to do for Craft Napa including:
Order merchandise and the totes for the swag bags.
Plan for a SUPER fun 5thedition and scheme up some memorable and community-building offerings throughout to commemorate it.
Reach out to companies for swag and door prizes. This is a hard thing for me to do (asking for stuff), so I try and give as many shout-outs as I can (pre-, during, and post- Craft Napa) to the generous folks who take the time and investment, and send goods for Craft Napans to play with and read about.
Plan on some elective activities that people can add to their registration line-up (like wine tastings or a visit to the Culinary Institute of America chapter downtown).
On another note, in a couple of weeks I am heading to Monterey to go to the Monterey Bay Aquarium to take some photos and gather some information to promote Craft Napa's soon-to-be-announced fundraiser. I don't have the name or the particulars defined yet, but I will give you a clue as to what it's about: how to help save our oceans and get away from single-use plastics like water bottles, which are beyond devastating to our environment and sea life.
Until next time, which will be in early July (I promise) have a happy start to summer!
Yours,
Pokey