I am in day 3,000,457 of my quarantine, have made 1264 meals for myself, and have made at least 200,679 masks.
Well, maybe those numbers are a tad exaggerated but that is how it feels. In truth, I'm now in week 6 of quarantining in CA, and have made, to date, about 180 masks. I started making them for the elderly and families in need in Napa, as well as workers of my favorite pub down the street, but have moved on to help others farther away, including UCSF Children's Benioff Hospital in San Francisco. The doctors and nurses are in need of fabric mask coverings to cover their PPE while they care for kids in cancer treatment. The children are understandably scared now seeing their caregivers wearing PPE masks when they come into their rooms to administer treatment…so fun fabric masks with playful prints are welcomed! (More on that at the end of this post.)
I have had a lot of emails and questions about Craft Napa next January. I had planned for 300 retreaters and 20 or so teachers. Given this current environment and no vaccine expected within the next 12 months…I would feel rather irresponsible as an event coordinator to plan for such a gathering to take place when it may not be safe for retreaters. I need to meet with the hotel and conference center (both closed), but I am planning some contingency plans if no vaccine happens beforehand. I have some ideas, so if an in-person event doesn't happen in January, I am planning for a fun and immersive alternative. Stay tuned.
In the meantime, I am finding a lot of joy (while I am quarantining alone and talking way too much to my animals), engaging in conversation with actual humans, every single day, at 1:00 PM Pacific. Check out the new logo for this…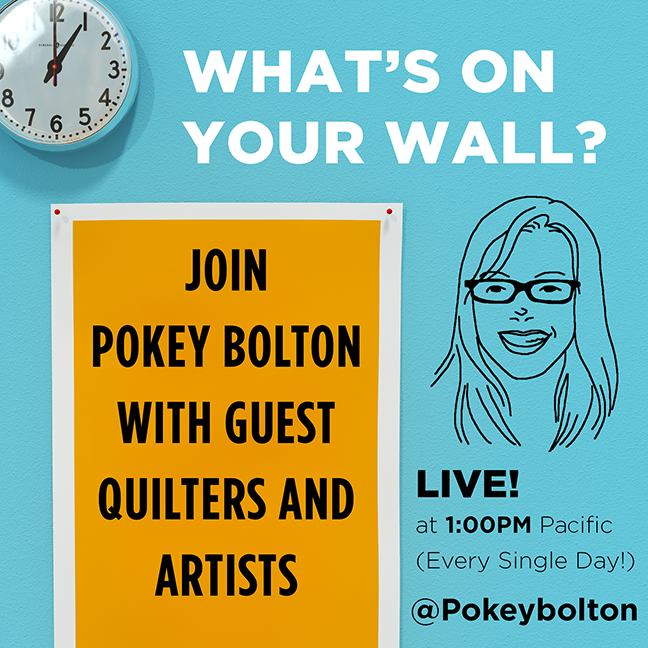 I have been doing this for about three weeks so far (every *single* day, weekends included), and have finally figured out how to download and save them, which I will start posting on YouTube soon. A few of the lives so far: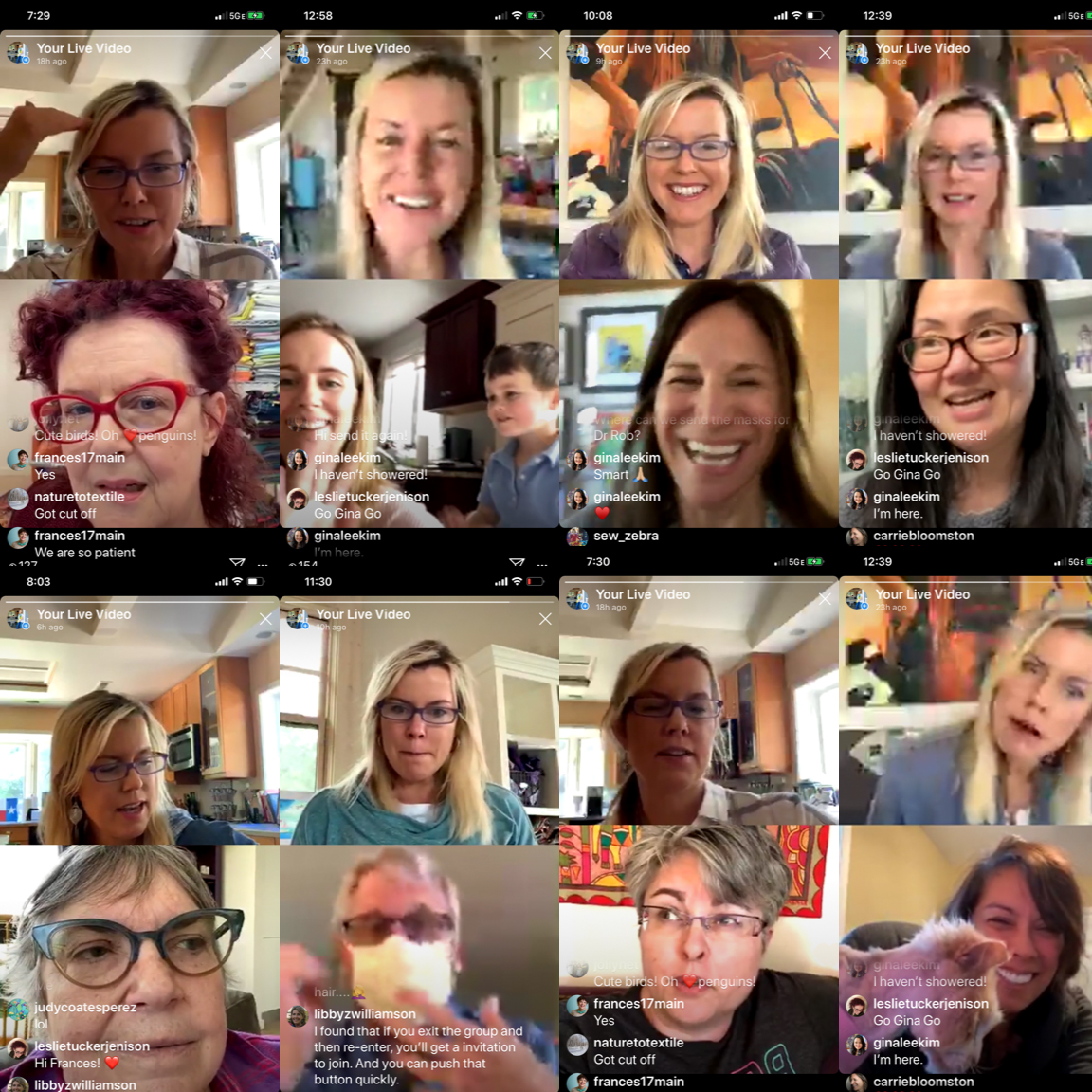 OK, if we start at the top left and got clockwise all the way around, we have Leslie Jenison, Lindsey McLelland (my niece), Carrie Bloomston, Gina Lee Kim, Bernie Berlin, Lyric Kinard, Dr. Rob Goldsby, and Frances Holiday Alford. 
So join us over on Instagram, every day, at 1:00 PM to talk everything quilting, art, and life, during this pandemic. 
And lastly…the image of Dr. Rob (above)…he is a pediatric oncologist at UCSF Children's Benioff in San Francisco. He is married to my best friend, Cindy, a nurse in pediatric oncology in that unit. My face in that montage above, I am trying (unsuccessfully) to hold back tears while he is explaining to me the masks they are wanting to cover PPE so the kids aren't so scared.
If you have some fun fabrics, and can donate your time to making some to cover PPE, please send to me, as I am making weekly trips down to his house so he can take to the hospital.
Send to:
Crafting a Life
PO Box 10368
Napa, CA
94581
THANK YOU and stay safe everyone,
Pokey