The last eight days have felt like one, long extended night. It is hard to believe that more than a week ago, I was awakened by my dog Nellie a little after midnight, followed quickly by a text from my friend Patricia Trimble, and then a Nixle alert on my cell phone saying evacuate immediately. I did not have long and quickly grabbed my animals and threw some things in a bag and fled.
I went down the street and saw this fire behind my place: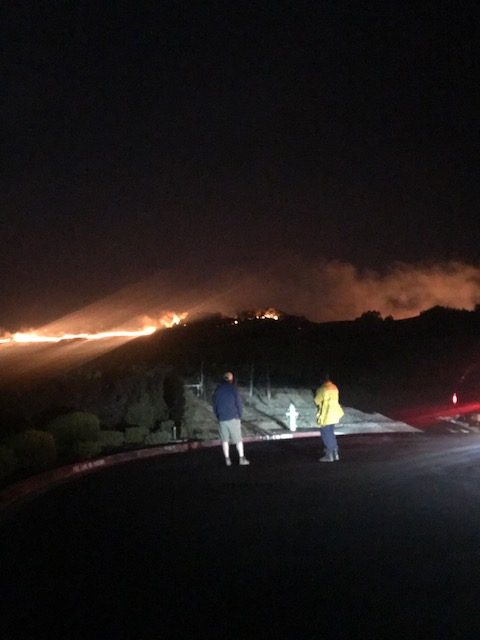 I went to Patricia's house for about an hour (3:00-4:00 AM), but then I drove around again, went to the shelter to see if I could get any information (and get some water), got back in my car to drive some more, and this was what I saw the next morning near my place. This was as close as I could get: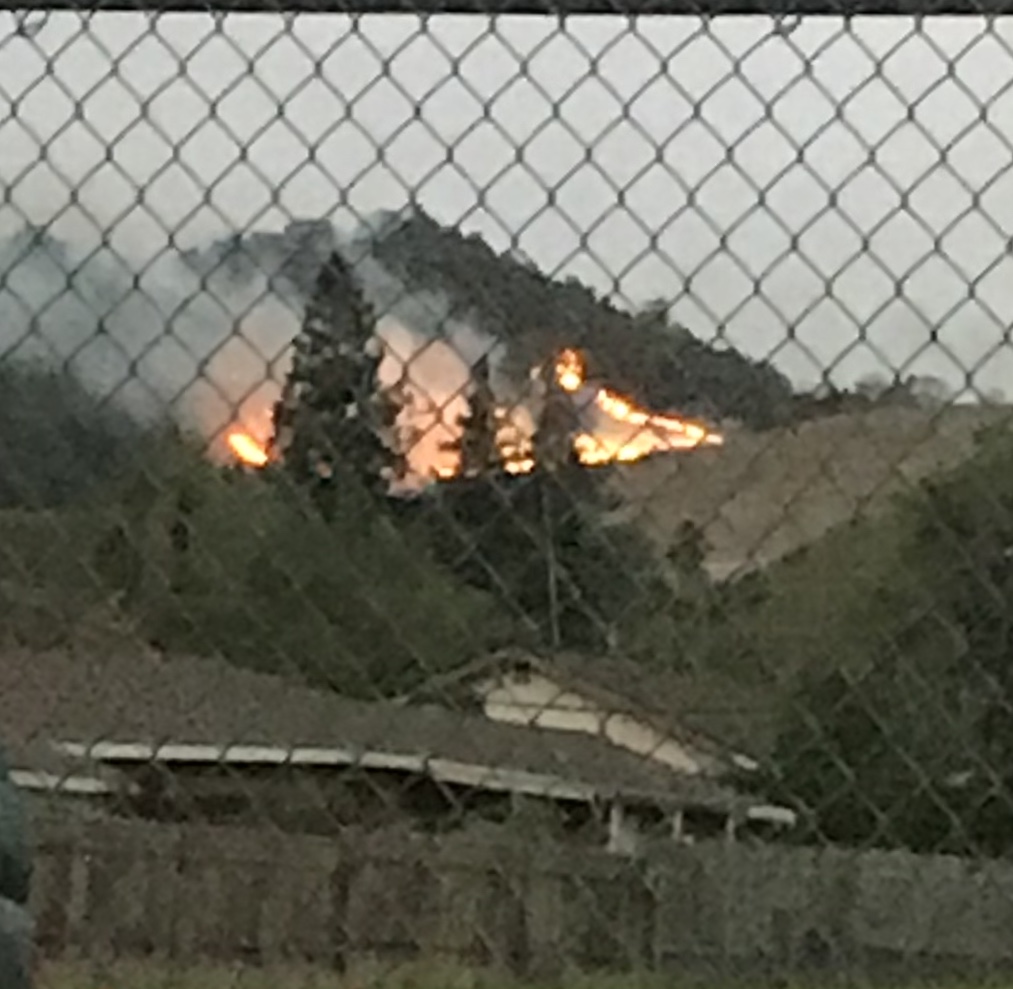 Another shot from my neighborhood–Browns Valley (this is a portion of southwest Napa where Carneros is, and just over the hill from Sonoma). My fire is the "Partrick" fire, which joined and became part of the Nunn's fire. From this perspective, I am looking across the Napa Valley basin to the Atlas Fire, which devastated the Silverado area: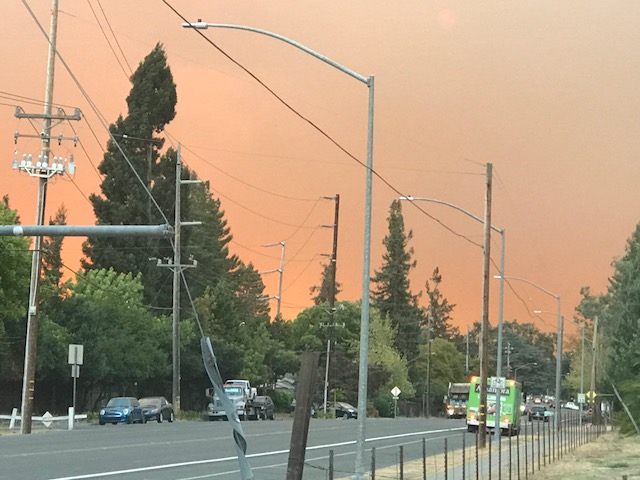 That day (Monday) I checked into the Embassy Suites where I stayed for several nights. I stayed with a number of families, many of whom had already lost their homes. There were a lot of tears and hugs all around. Tyrion tried to provide some comfort: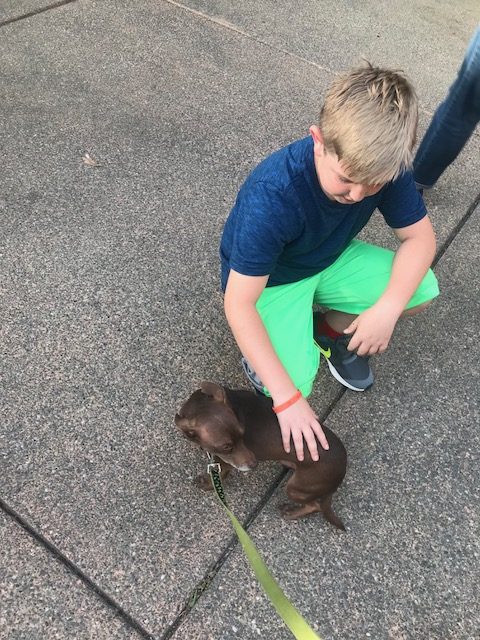 Next afternoon, my street was barricaded by CalFire, but they looked on the map and said I could "check" my place quickly. I put my iPhone on video in my lap. I was surprised, scared, yet relieved to see this…
I thought everything was ok by then. But it was not. It had also been two days and I still had no cell service–no one did in Napa. We were all trying to get reliable information, which proved difficult.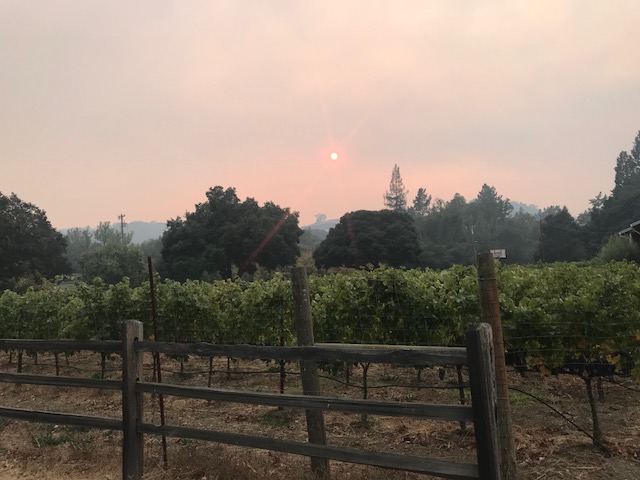 It is hard to tell from this photo but by Wednesday evening, things had flared up again. The valley was absolutely toxic, a ring of fire and smoke so thick you couldn't see 10 feet in front of you. It was also hard to leave the valley–Sonoma was ablaze and roads closed.  I got a text that evening that said "Bulldozers at your place, fire coming south, looks bad."
Next day: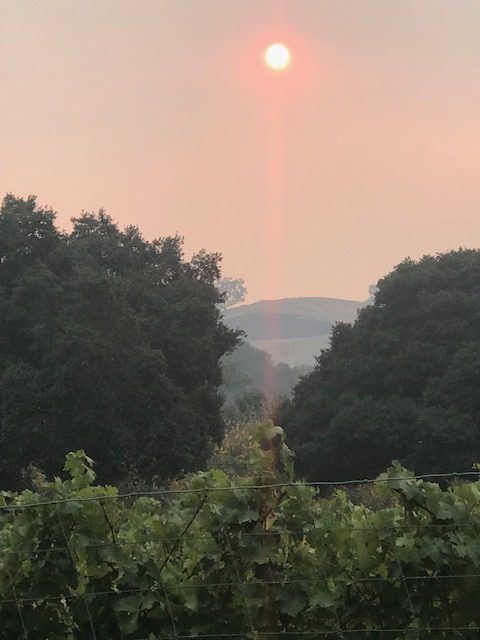 There is a clear and visible burn behind my hill to the left.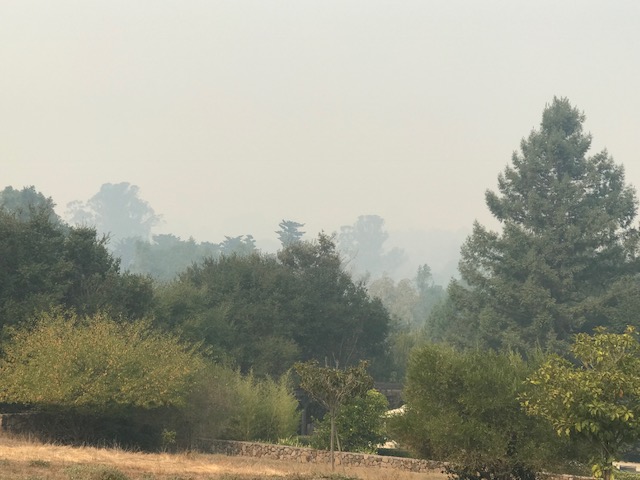 On Friday I was able to go back again for a few minutes and see all still standing, but still a little bleak.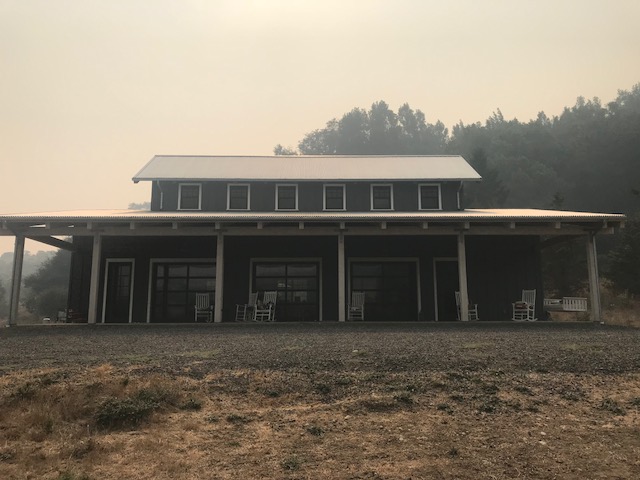 Finally, I was able to go home on Saturday. And while wearing my N95 mask, start cleaning.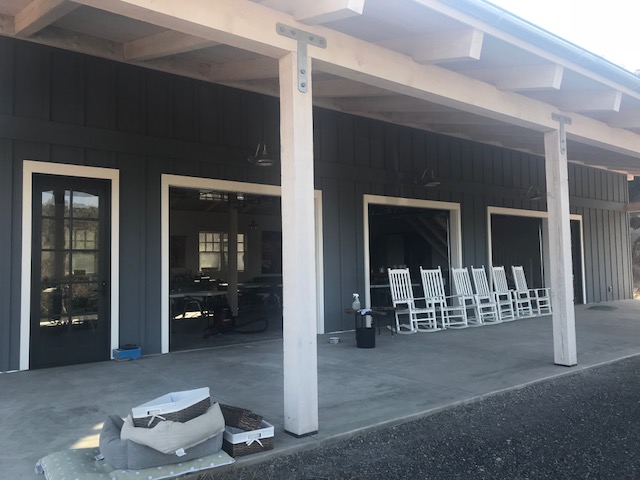 It was therapy to clean and try and gain control what has felt like a totally out-of-control situation this past week. These fires were unprecedented and historic.
I have changed the air filters in my house, and for the most part wearing that N95 mask as I clean, wipe down, and pitch stuff, including pillows, dog beds, etc., and all food in my refrigerator and cabinets. I also have ordered two HEPA air filters from Amazon to help get rid of all of the residual smoke inside my home. I am GRATEFUL and LUCKY, my place is still standing, and I know it.
I am forever indebted to our first responders, for those firemen who kept watch on my porch that first night and next day.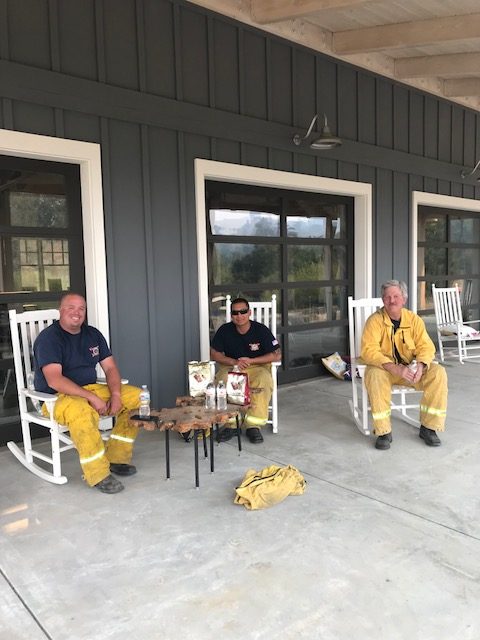 I am thankful for Eli Ponce Construction who volunteered his time and energy and for almost 24 hours straight, bulldozed around my place and my neighbors' homes in Browns Valley to create a fire break. I am thankful for SO MANY family members and friends from the Bay Area who called me and reached out (multiple times), offering me a place to stay, and kept checking back in with me. I am grateful for Napa…I have made some incredible friendships here, especially Patricia Trimble from The Roost Napa and those in my neighborhood; our bonds have only deepened.
I also want to thank everyone, too, on Facebook, who gave me so many cheers and just overall words of support and comfort when I was distraught, confused, incoherent and tired. I needed it, and I hope I can return the favor to you some day.
I learned a few things, that I hope are helpful, too. There have been so many devastating floods, fires, hurricanes this year…I think this is good generic  info. to prepare, no matter what the threat may be:
APPS to download on your cell phone:
-Next Door, a neighborhood APP to keep in touch with each other.
-Nixle, which coordinates county and state emergency services, letting you know timely updates of threats or concerns in your area.
-MyTuner Radio (this allows your iPhone to access AM radio and local news–great if you don't own a radio anymore)
If on Facebook, make sure to follow both the official page of your county/city and local police. I found this invaluable, especially when I had no cell service, but was able to go to a hotspot for WiFi to learn the latest from county officials.
What I wish I had done (and will now do):
-Get a fire proof safe/ container to put photos and important docs in.
-Have water and batteries and other emergency misc ready. I thought I did, but it wasn't organized as well as it should have been.
-Have an extra bag of clothing and toiletries to grab and take.
-Make sure my pet carriers (leashes, medicines, etc.) are easily accessible. (I had to dig around to find my cat carrier.)
Here is a picture of Clarence tonight in his new, plush, smoke-free dog bed. His face says it all:
We are all looking forward to catching up on sleep, to finding our humor again.
And I don't think I am alone in saying this, but after Hurricanes Harvey, Irma, Maria, and the Vegas shooting, can we all just scream UNCLE!?
With my deepest gratitude for all your support this past week, and my sincere well wishes that we all stay safe and find a sense of calm,
Pokey