Ah summer…to me this season means lots of time dyeing and printing fabrics outdoors, and this summer I'm trying my hand (for the very first time) at indigo dyeing. As someone who loves surface design and fabric printing, I don't know why I haven't played with this process before as it is extremely gratifying, fun, and easy!
And you don't need the summer heat to indigo dye, you can do it in winter, of course, too. The picture below was taken this past January at Craft Napa in the outdoor courtyard of the Embassy Suites/Napa. We quite literally took over the entire hotel, drying fabrics indoors and out. Below are some images of fabrics drying everywhere at the hotel from Sandra Johnson's Craft Napa Indigo & Shibori workshop.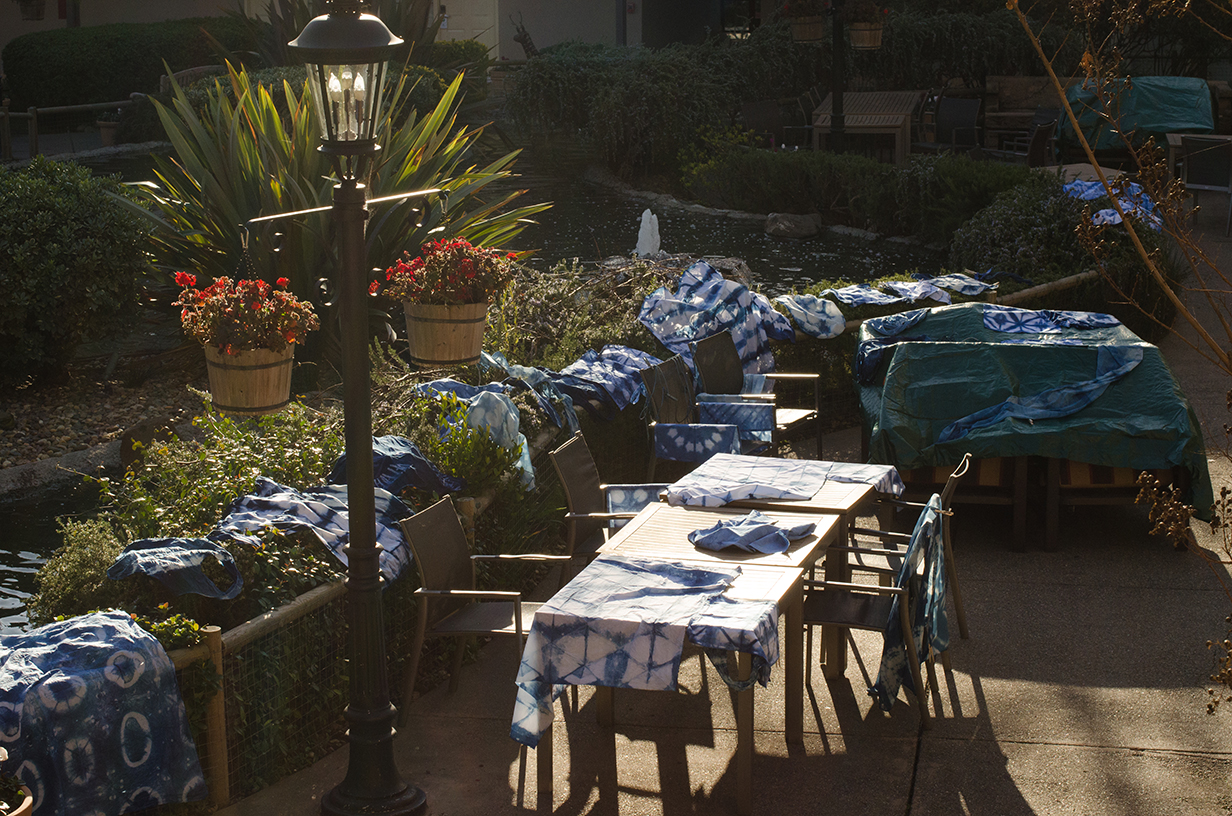 We draped the bushes too…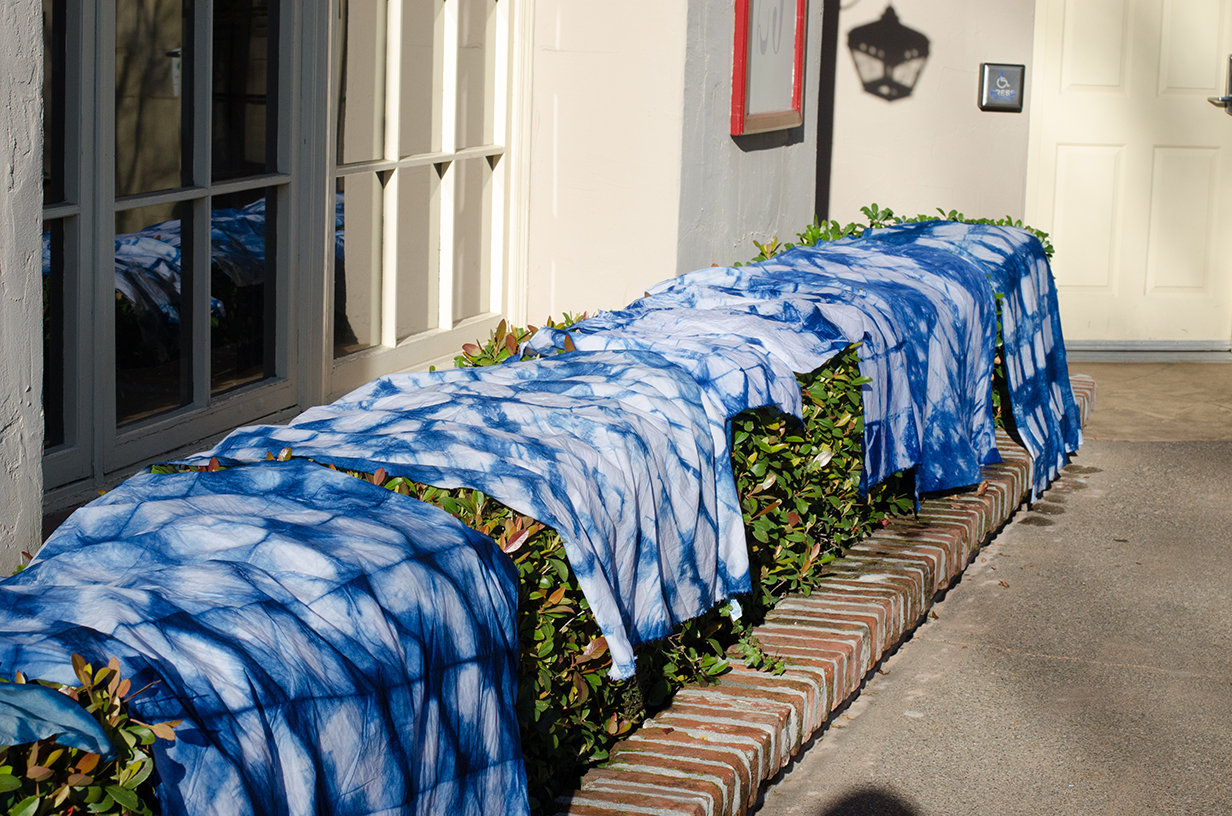 And all of the outdoor furniture. (All were unharmed afterwards, I promise.)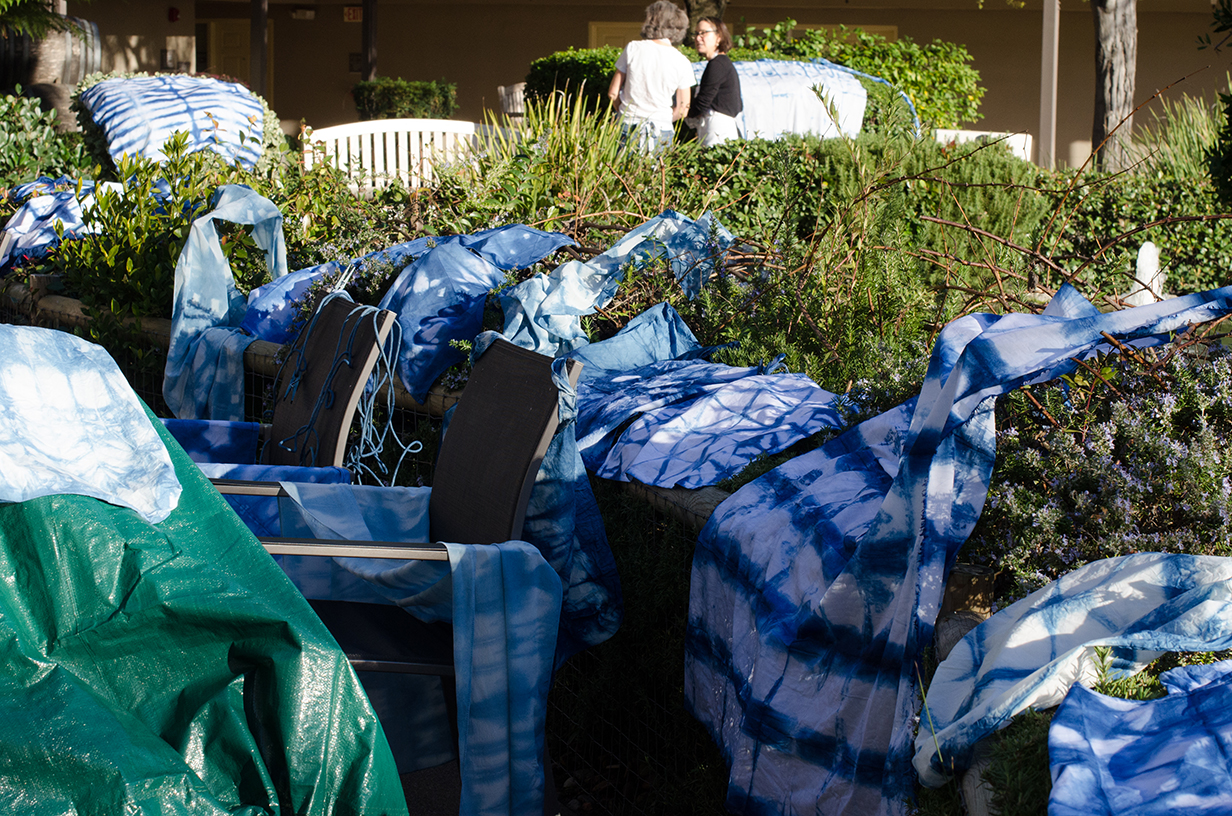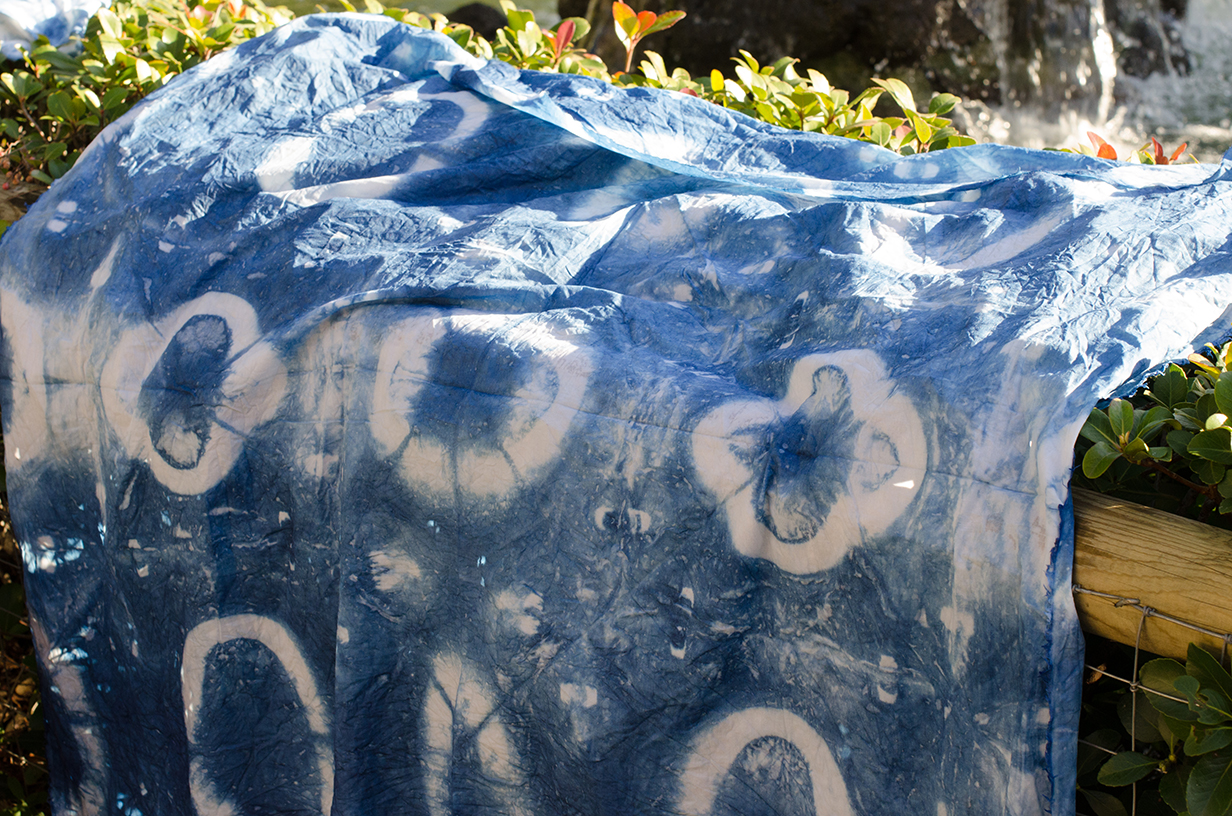 This kit (below) is what was used for indigo dyeing, which I recently bought too so I could give a go at this process. It is a dye kit by Jacquard that we got from Dharma Trading, and it's so cheap (only $9)! This kit includes all of the ingredients, conveniently measured so all you have to do is pour everything provided in the kit (wearing your protective gloves and gear) into a five-gallon bucket of warm water. This mix can dye up to $15 yards of fabric, too! There is a lot of value packed into this tiny box, and when covered when not dyeing, can last for days: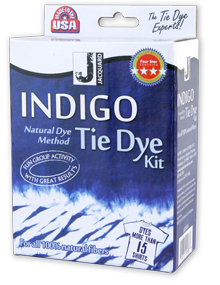 This is what it looks like when all of the ingredients are poured into a five-gallon bucket of warm water. The top of the dye vat has a bit of a film on it–it looks a little strange but it's normal. And when you fold the fabric and clamp it (as shown below), everything emerges as green; it's the oxidation process that turns the fabric blue.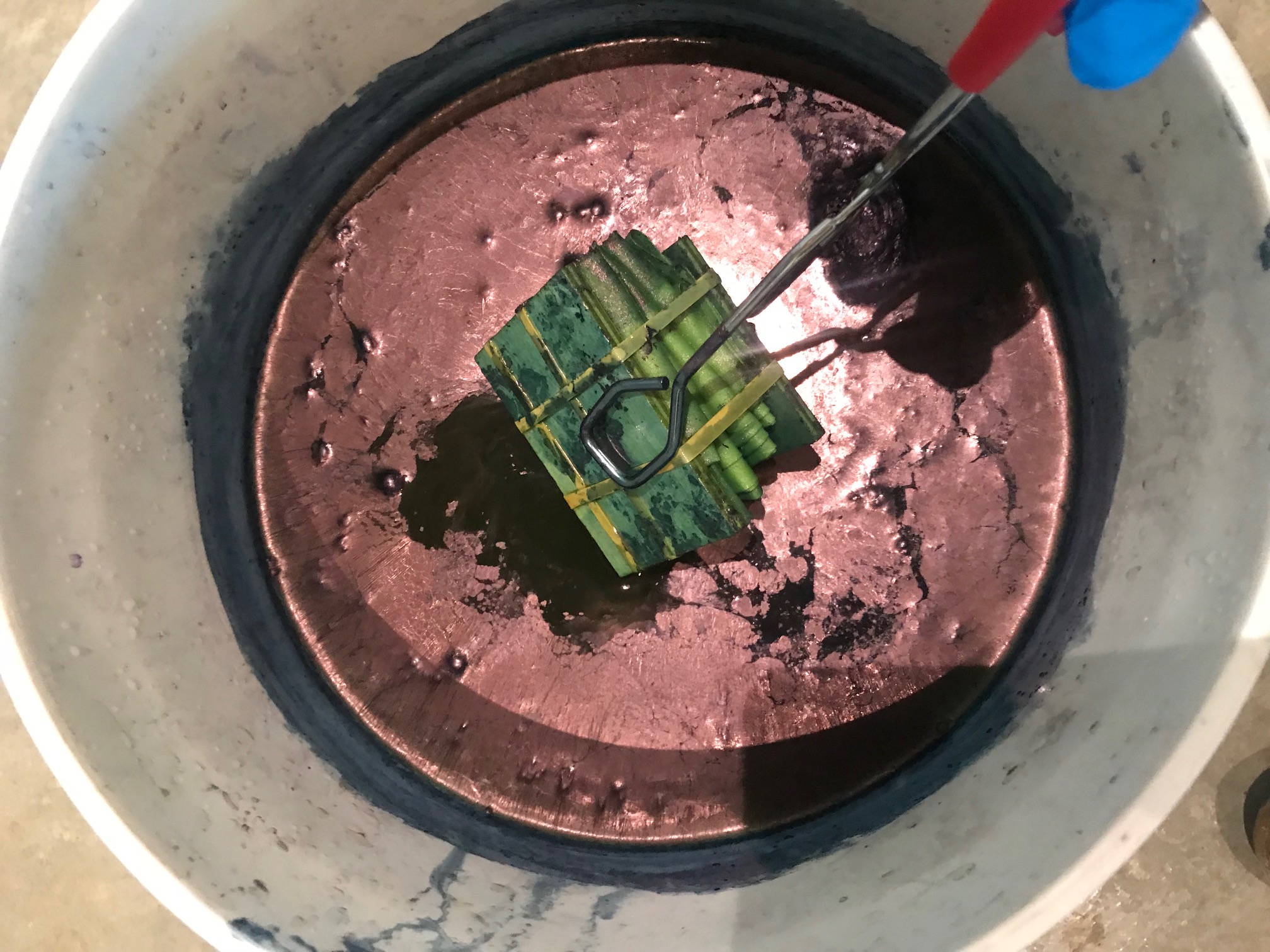 Below are some first samples of mine drying in the sun: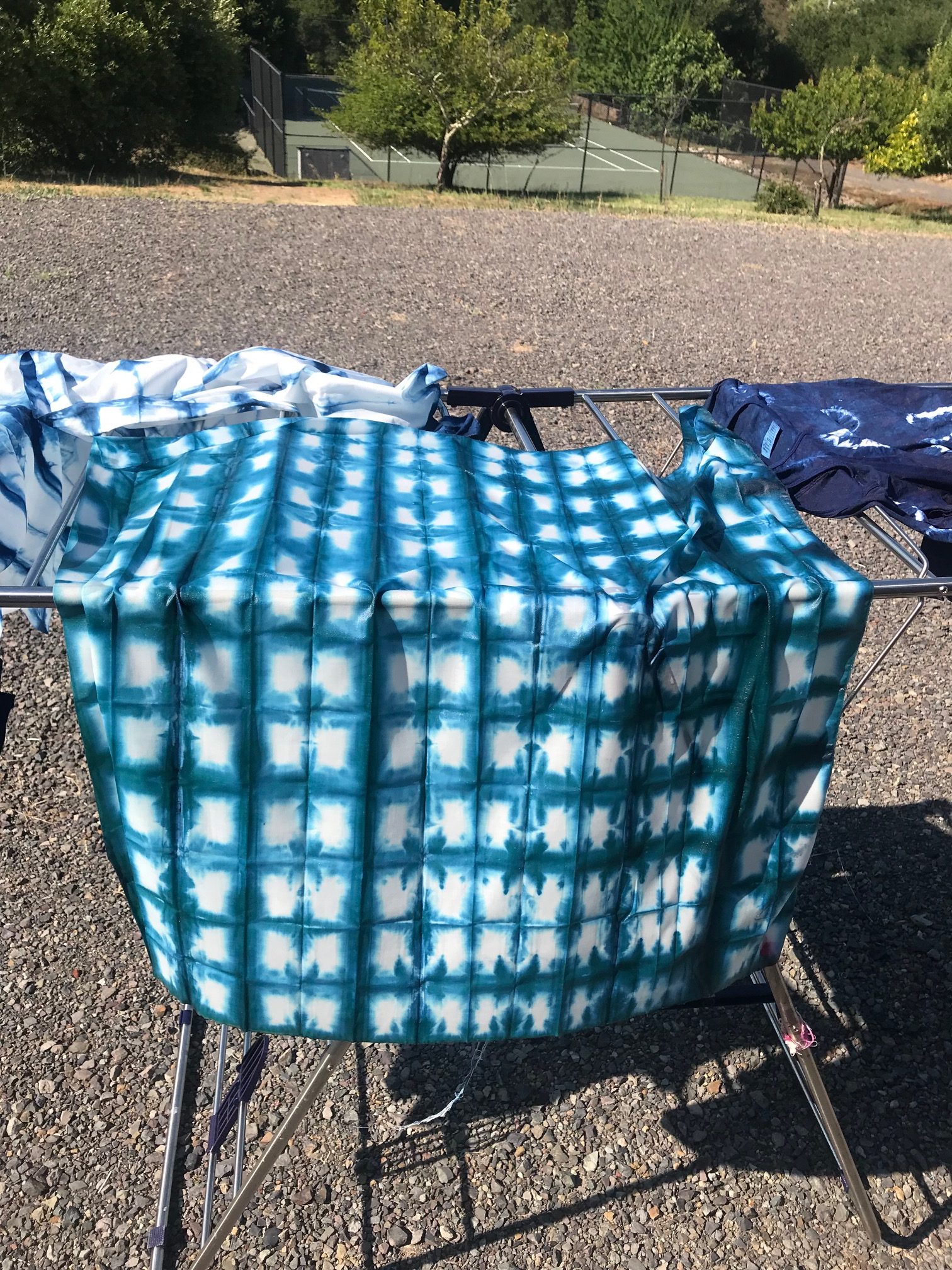 They get bluer as they dry: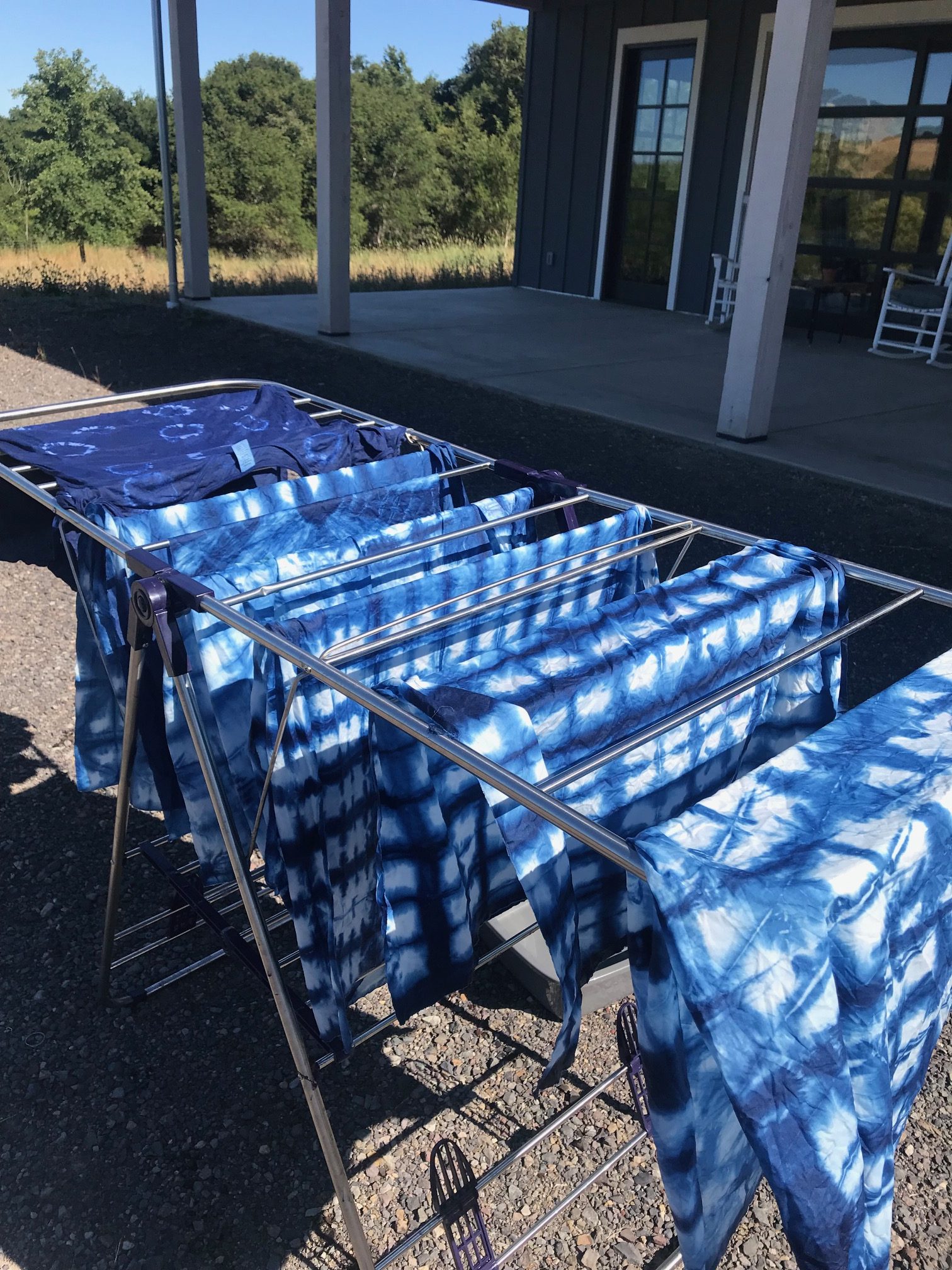 Below was a very simple, accordion and triangular folding process I used, but it yields such amazing, graphic results! (And note to dyers: if you are going to indigo dye, set aside a special dye bucket for this. I had used this same bucket for Procion-dyeing and evidently had leftover pink dye in it…hence the pink spot on the lower right side.)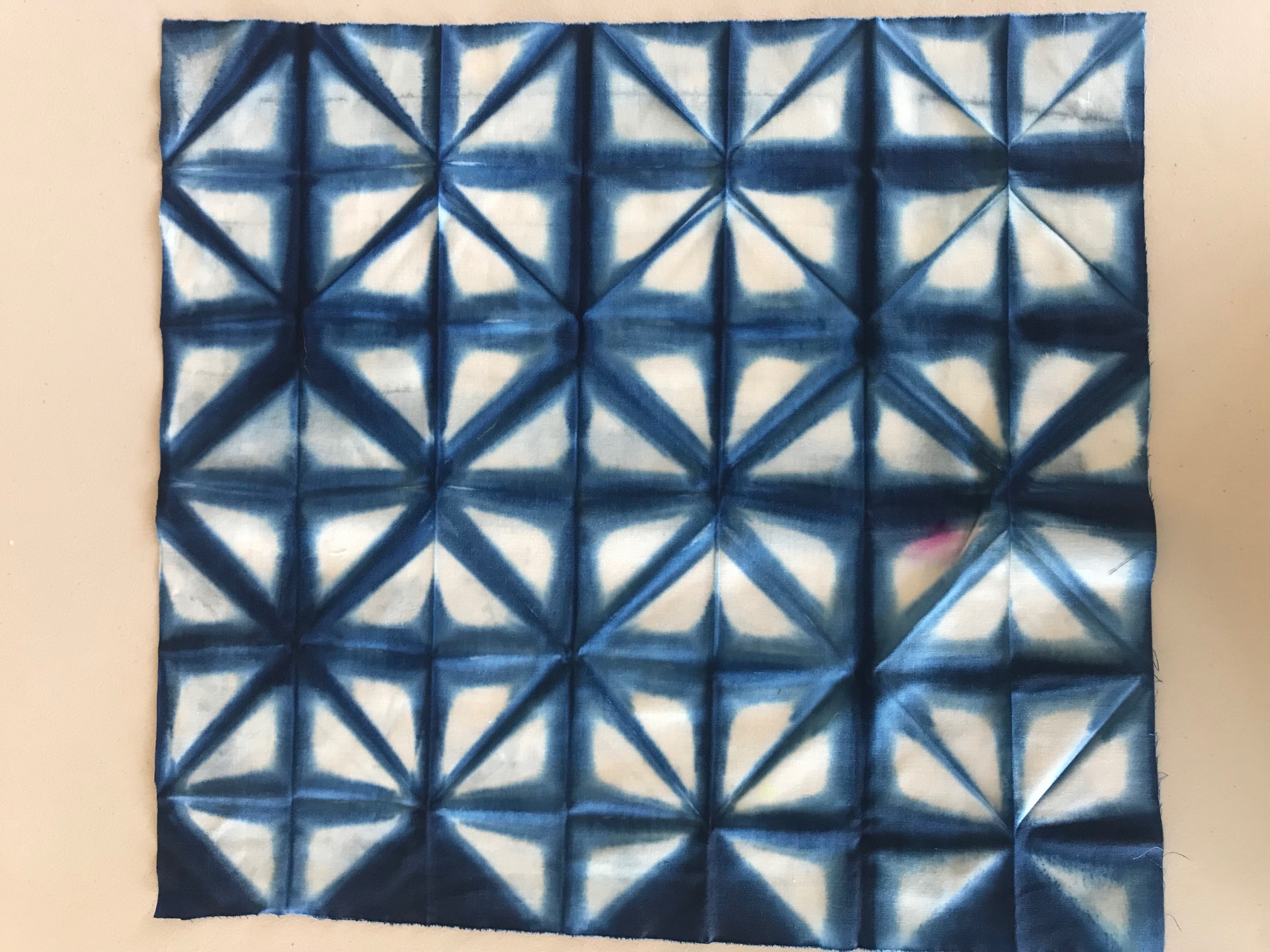 I also bought a blank cold-shoulder t-shirt from Dharma Trading and tried my hand at what is called kumo (basically wrapping an object with rubber bands to resist-dye). I just used rocks from my gravel driveway for this experiment: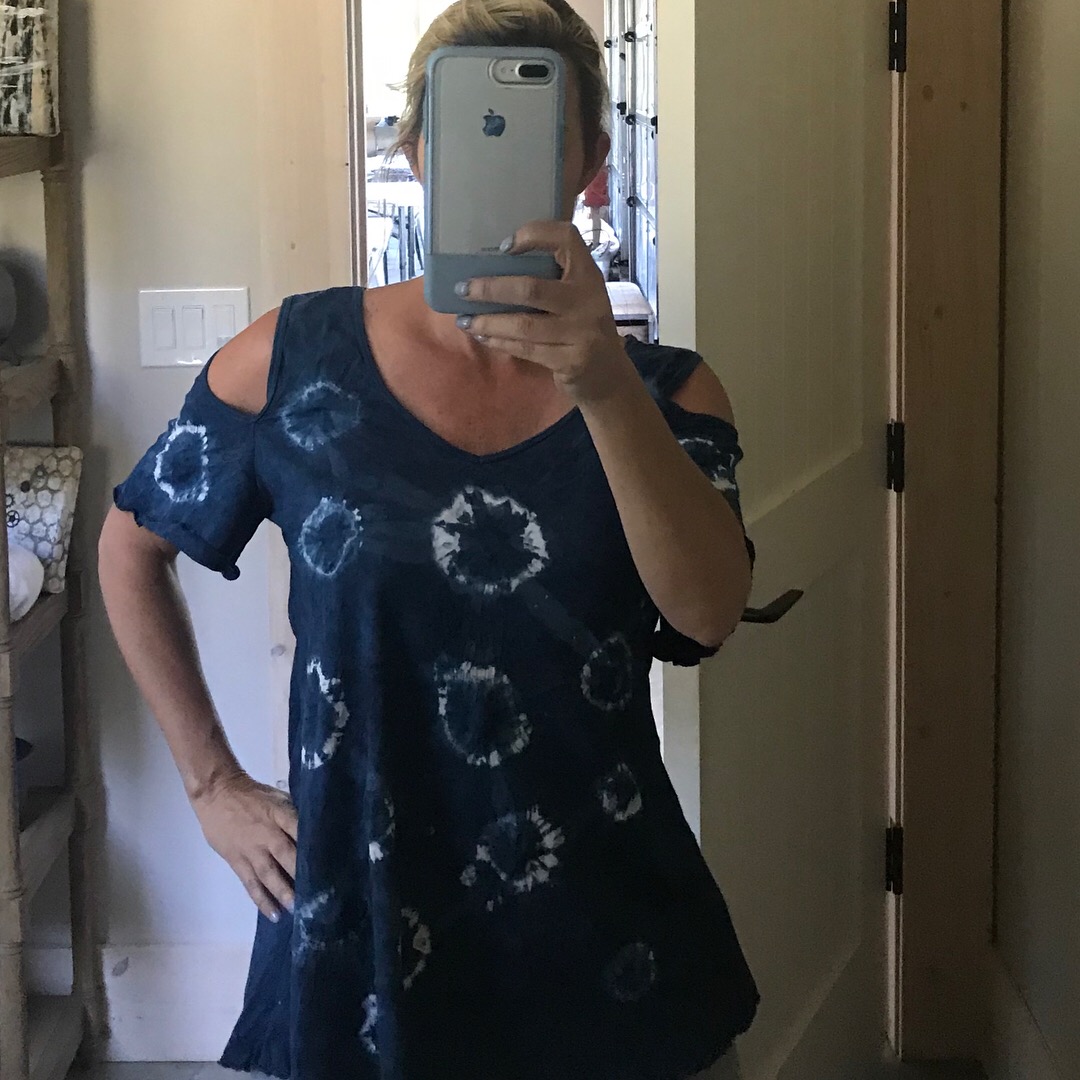 And then I also tried some screen printing of imagery on top to get more layered effects: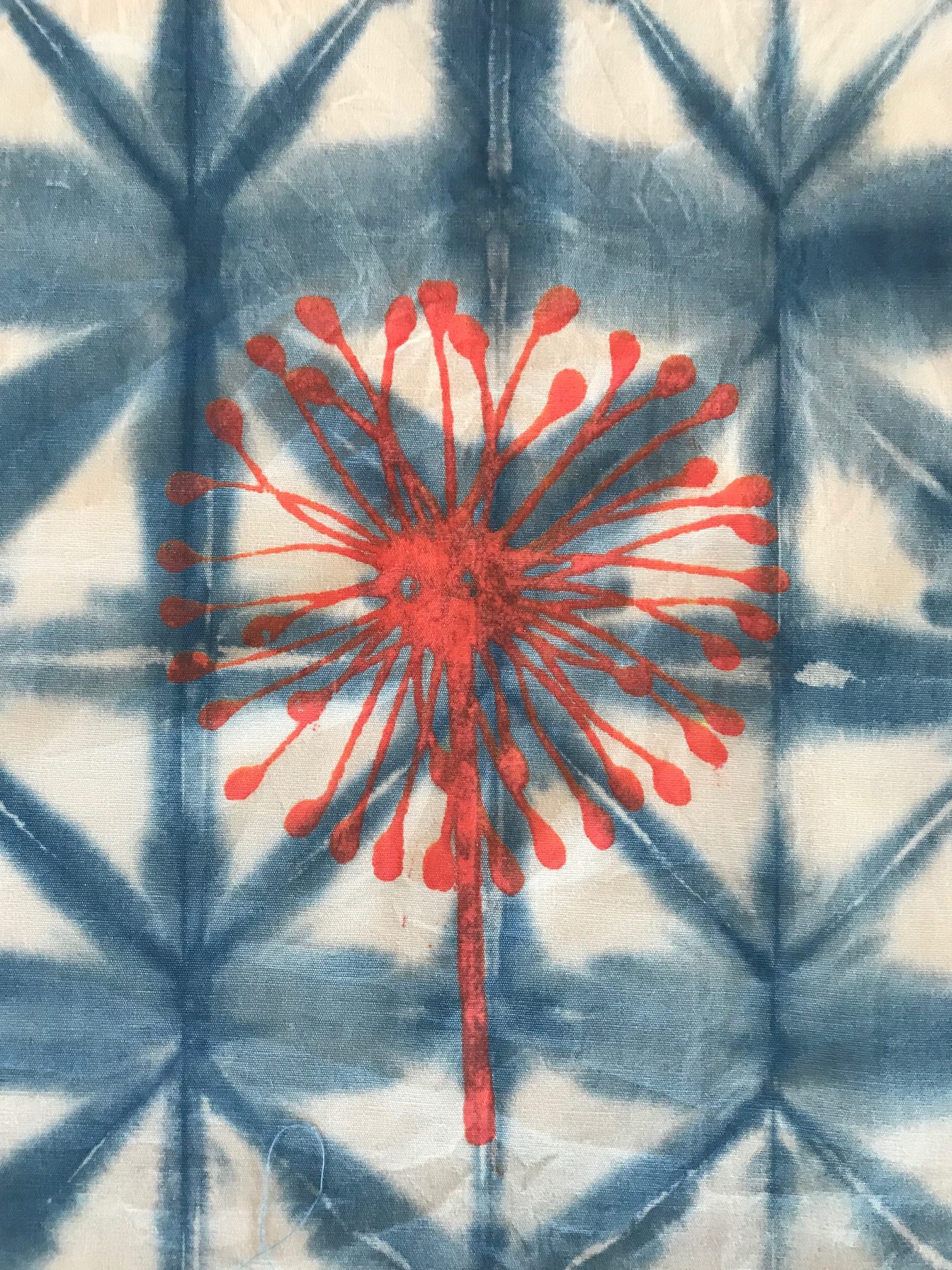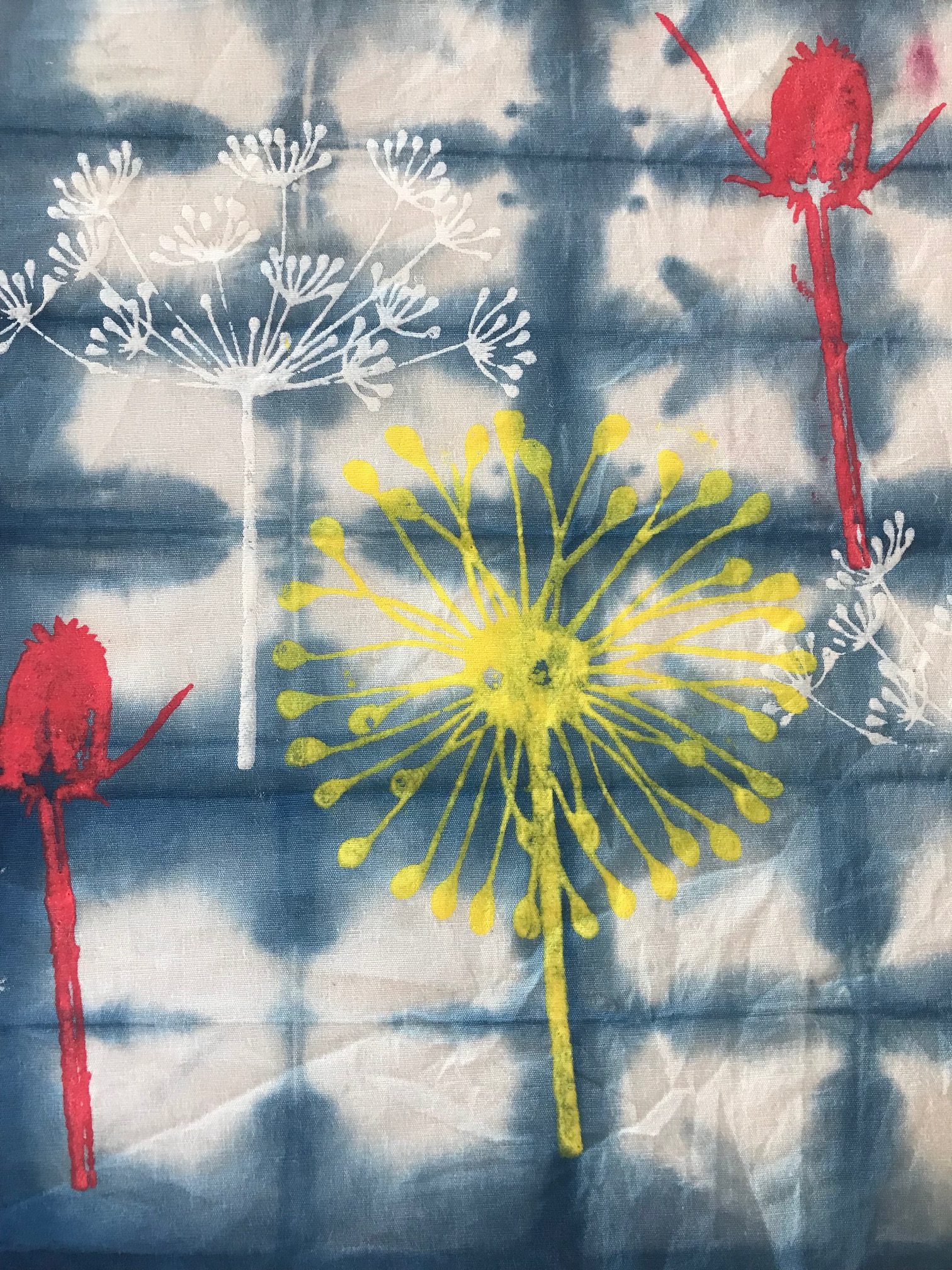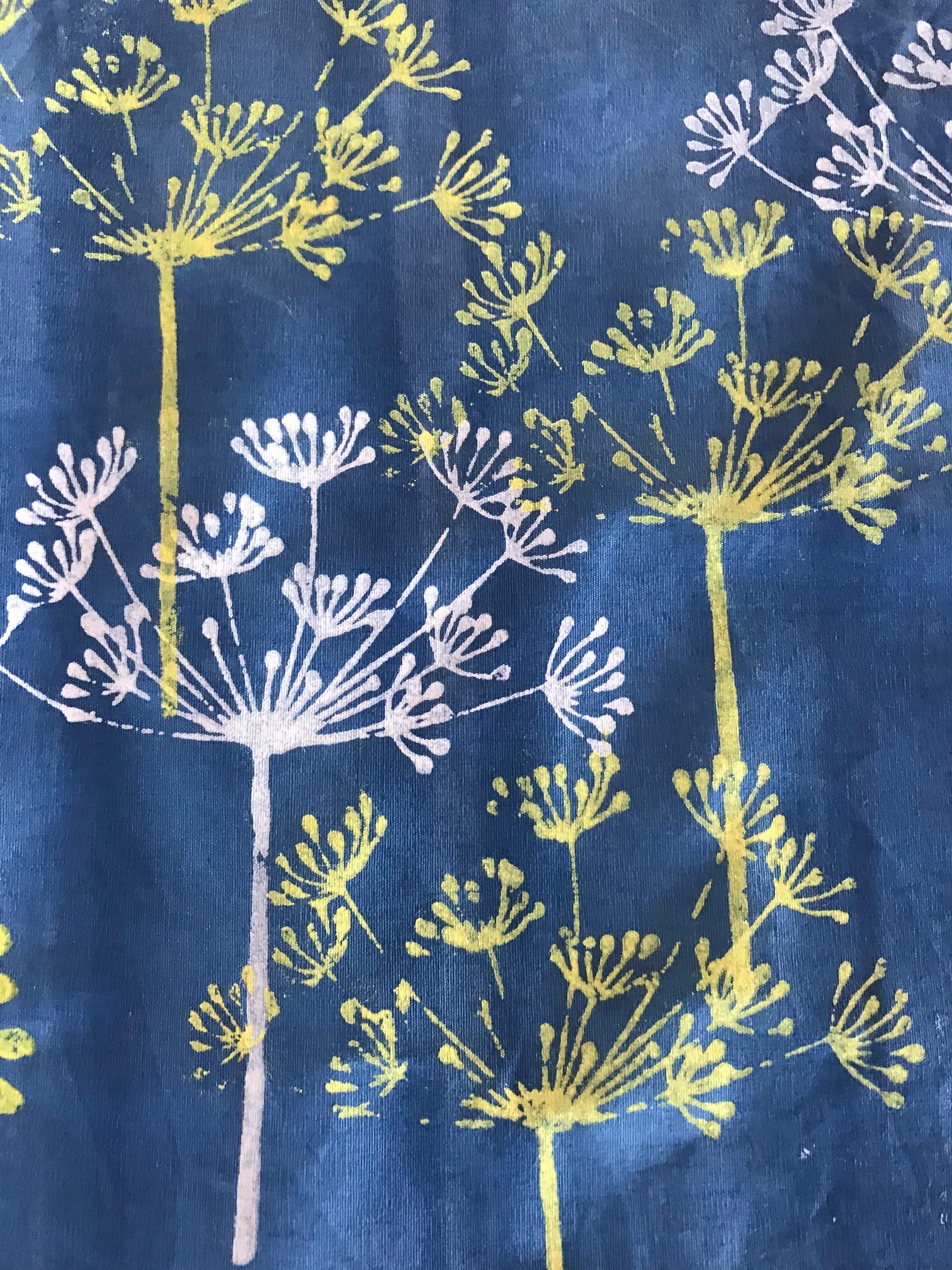 This is just the beginning of indigo work for me, and I cannot wait to really explore this process, and also try traditional stitched, shibori techniques.
A couple of Youtube videos for this process that I found helpful:
Sandra Johnson will be teaching not one but two Shibori classes at Craft Napa this next January, and you can find more information here! She still has a few spots left in both workshops.
I am also really pleased that Dharma Trading (in neighboring San Rafael) is joining the sponsorship team at Craft Napa by providing product for teachers and doing live dyeing and fabric printing demonstrations during all of Craft Napa next January!
Indigo Kit Giveaway!
To celebrate the love of indigo dyeing, I am giving away an Indigo Dye Kit (as shown above). Here's how to play: Answer the following question (in the comments section for this post), and I will randomly select a winner this next Tuesday (July 17th). This is a global opportunity; everyone (within the U.S. and beyond) is invited to participate. On Tuesday, I will update this entry with the winner's name. Good luck!
Question:
What have you learned lately (or maybe revisiting) that is fueling your creativity at the moment?
Happy Creating!
~Pokey
UPDATE: Congratulations to Sherri Cox–you are the winner of the Indigo Dye kit! Please email me at info@craftingalifellc.com and I will ship it out to you directly!